International Studies and Programs
Michigan State University
International Center
427 N. Shaw Lane
Room 207
East Lansing MI 48824-1035
Tel: +1-517-355-2350
Fax: +1-517-353-7254

Website questions:


Back to Directory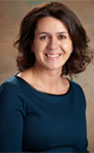 Nicole Namy
International Sponsored Student Advisor
Office for International Students and Scholars
105 International Center

namynico(at)msu.edu
Biography: Nicole Namy is the International Sponsored Student Advisor at OISS. She graduated from MSU with degrees in English/Education. She has worked in East Lansing within the field of special education and prior in the Detroit area administering youth programming for a community center and area schools. Nicole was born in Lebanon, is fluent in Arabic and has a flare for yummy Lebanese cooking! She also has a great passion for traveling and is excited to work with international sponsored students at Michigan State University.