International Studies and Programs
Michigan State University
International Center
427 N. Shaw Lane
Room 207
East Lansing MI 48824-1035
Tel: +1-517-355-2350
Fax: +1-517-353-7254

Website questions:


Back to Directory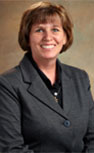 Nancy Rademacher
Office Manager/SEVIS Coordinator
Office for International Students and Scholars
105 International Center

rademac2(at)msu.edu
Biography: Nancy Rademacher is the SEVIS Coordinator at OISS. Her functions include office management, SEVIS reporting, computer technical support, knowledge of university policies and procedures, and immigration regulations. Nancy lived in Okinawa for more than two years while growing up and has visited Hong Kong and Croatia. Although her responsibilities keep her away from the reception area for the most part, she truly enjoys the opportunity to help international students and scholars. Nancy has worked at MSU since 1980, and has been at OISS since 1987. She is an avid sports fan and supports MSU teams. Go Green!