International Studies and Programs
Michigan State University
International Center
427 N. Shaw Lane
Room 207
East Lansing MI 48824-1035
Tel: +1-517-355-2350
Fax: +1-517-353-7254

Website questions:


Back to Directory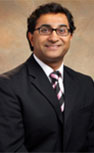 Hersh Sisodia
International Student Advisor
Office for International Students and Scholars
105 International Center

hsisodia(at)msu.edu
Biography: Hersh Sisodia is an international student advisor at Michigan State University. He leads the F-1 immigration team. Hersh has a background in communication, usability, and technology implementation. He holds a B.A. in Communication and an M.A. in Educational Technology from Michigan State University. His graduate studies at MSU focused on incorporating technology into pedagogy and other environments. He is always looking at creative ways to utilize technologies to communicate with and educate the international population.

He has lived abroad for 10 years, speaks several Indic languages, and has studied Russian and Spanish. Hersh is a frequent presenter of sessions and workshops at NAFSA on topics of immigration and technology. He also trains MSU campus and community on intercultural communication and has previously trained on diversity and inclusion.