International Studies and Programs
Michigan State University
International Center
427 N. Shaw Lane
Room 207
East Lansing MI 48824-1035
Tel: +1-517-355-2350
Fax: +1-517-353-7254

Website questions:


Back to Directory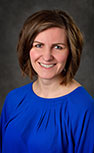 Neringa Tuyilingire
International Student and Scholar Advisor
Office for International Students and Scholars
105 International Center

neringa(at)msu.edu
Biography: Neringa Tuyilingire is an International Student and Scholar Advisor at OISS. She was born and raised in Lithuania, and came to the U.S. in 1999 to pursue a college education. Neringa graduated from MSU's James Madison College with degree in International Relations. Prior to MSU, she spent two years working with international scholars at Rutgers University. Neringa has traveled to several European countries during her undergraduate studies, and studied abroad in Brussels, Belgium.

Her diverse personal and professional background has greatly contributed to her interest in the field of international education. Neringa works with international scholars on H-1B and J visas. She is very excited to be part of OISS and would like to be of as much assistance as she can to the international students and scholars at MSU.