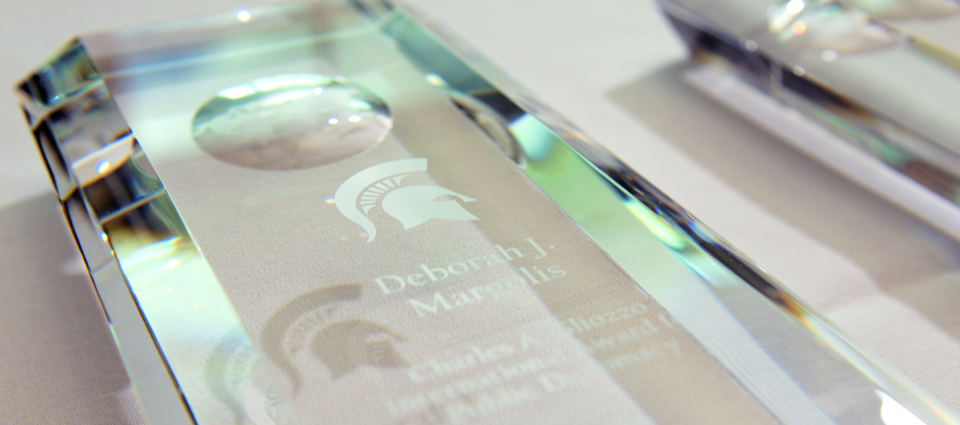 2020 International Awards Ceremony
March 31, 2020 | 3:30 p.m.—5:00 p.m. | Huntington Club
Each year, International Studies and Programs presents a series of distinguished awards to recognize individuals who are solving the world's greatest problems, making the world a better place, internationalizing the student experience, and advancing knowledge and transforming lives around the world.
---
Submit a nomination for the 2020 International Awards Ceremony. MSU faculty, staff, alumni, students and members of the greater Spartan community are eligible to submit a nomination.
---
2019 Recipients
John K. Hudzik Emerging Leader in Advancing International Studies and Programs
Robert A. Montgomery, assistant professor in MSU College of Agriculture and Natural Resources

Montgomery is an assistant professor in the College of Agriculture and Natural Resources and a core faculty member of the African Studies Center. He frequently collaborates on innovative programs with MSU faculty, staff, and students, and developed an internationally recognized research program called the Research on the Ecology of Carnivores and their Prey (RECaP) Laboratory. Montgomery's work focuses on producing sustainable solutions to promote wildlife conservation. He has published more than 60 papers on wildlife ecology and conservation in many countries including Uganda, Kenya, Brazil, England and Canada. Montgomery is an advocate for student learning, recruiting students from diverse countries to become the next generation of wildlife conservation leaders.
MSU Award for Outstanding Service to Education Abroad
Karen W. Lienhart, academic student affairs, MSU College of Natural Science
Lienhart has served Michigan State University for more than a decade, retiring in February 2019. She joined the College of Natural Science in 2007 and served as Director for International and Off-Campus Education. She has been instrumental in advising international students in the College of Natural Science, and she is actively involved in the education abroad program, collaborating with them to implement an evaluation protocol for their programming. Lienhart was also the creator of program evaluation surveys for students, and helped with the design and consultation of a semester long program in New Zealand. Working with her colleagues in the College of Natural Science, Lienhart helped establish student research opportunities around the world, giving students the chance to experience the cultural influences and global impacts of science.
Ralph H. Smuckler Award for Advancing International Studies and Programs at MSU
Lalita Udpa, professor, MSU College of Engineering
Udpa is a professor in the department of Electrical and Computer Engineering at Michigan State University where her work and research focus on Nondestructive Evaluation (NDE). Her expertise has played a critical role in the development of sensors, computational modeling, and data analytics that help both the defense and civilian sectors. With over 30 years of experience in her field, Udpa's passions include helping MSU international students and mentoring women, especially in the field of engineering. An advocate of education, she has helped to establish agreements for research scholar exchange programs for undergraduate and graduate students globally.
Joon S. Moon Distinguished International Alumni Award
Suyanto, professor, Yogyakarta State University
Suyanto is a professor at Yogyakarta State University in Indonesia where he was rector for seven years. He served as Director General of Management for Primary and Secondary Education in the Ministry of National Education in Indonesia where he managed thousands of schools and championed landmark national curriculum reform. He is also an accomplished author and education consultant to policymakers in Indonesia. Suyanto is a proud Spartan alumnus who received his PhD from the College of Education in 1986, and has worked tirelessly to form a bridge between MSU and Indonesia. An ambassador for MSU, he networks and mentors students and faculty in Education Abroad and other programs.
Homer Higbee International Education Award
Faizan Shafique, student, MSU College of Agriculture and Natural Resources

Shafique is a doctoral student and a Fulbright scholar from Pakistan studying construction management in the College of Agriculture and Natural Resources. He is passionate about public speaking, the environment, and fostering diversity on campus. Shafique is actively engaged in many programs at MSU including president of the Simply Speaking Toastmasters Club where he helps international students improve their English and public speaking skills. He is secretary of the University Apartments Council of Residents and a representative of Council for Graduate Students. An enthusiastic volunteer, Shafique has participated in several volunteer programs on campus including VETP, CVIP, and the LATTICE book club.
Connie Wolfe, volunteer, MSU Community Volunteers for International Programs
Wolfe is a professor in the College of Education and is actively involved with several programs at MSU which benefit international students. She helps international scholars and students share their culture with the mid-Michigan community as part of the I SPEAK program, and provides support to international students and their families through the International Friendship Program. She tutors and teaches conversational English through the Volunteer English Tutoring Program (VETP). Additionally, the diligent teacher and author volunteers her time to help the Okemos High School band program, and tutors refugee students in the Lansing area.
Charles A. Gliozzo International Award for Public Diplomacy
Deborah J. Margolis, librarian, MSU Libraries
Margolis is the Middle East studies and anthropology librarian for MSU Libraries. She is the project director of Muslim Journeys, an annual scholar-led book discussion series involving students, faculty, campus and community organizations. She has acquired special materials for the MSU Libraries related to the Middle East, Jewish and Muslim Studies, and the culture of the Roma people. Margolis has also curated numerous library exhibitions on international topics, most recently Forms of Activism: Sahar Khalifeh's Palestine. Margolis leads workshops and regularly organizes events like film screenings with the Muslim Studies Program.
Special Recognition Award for Promoting International Understanding
John D. Metzler, outreach coordinator, MSU African Studies Center
Metzler has served MSU for over 32 years, most recently as the assistant director for Outreach Programming in the African Studies Center. He also holds an adjunct position in the Department of Teacher Education. Metzler helped develop education abroad programs in Africa, starting with Zimbabwe in 1985, which has expanded to more than 20 programs in eight African countries. He played an active role in the development of the Fulbright-Hays Group Projects Program, and led groups of K-12 and community college educators abroad to Ghana, Tanzania, and Zimbabwe.
Metzler is also one of the co-founders of LATTICE, a program for K-12 educators in Michigan. He has developed programming for community colleges, universities, state and local government, and the Michigan business community.
View the past recipients of International Awards including faculty, staff, alumni, students, and Spartan community members honored in past ceremonies.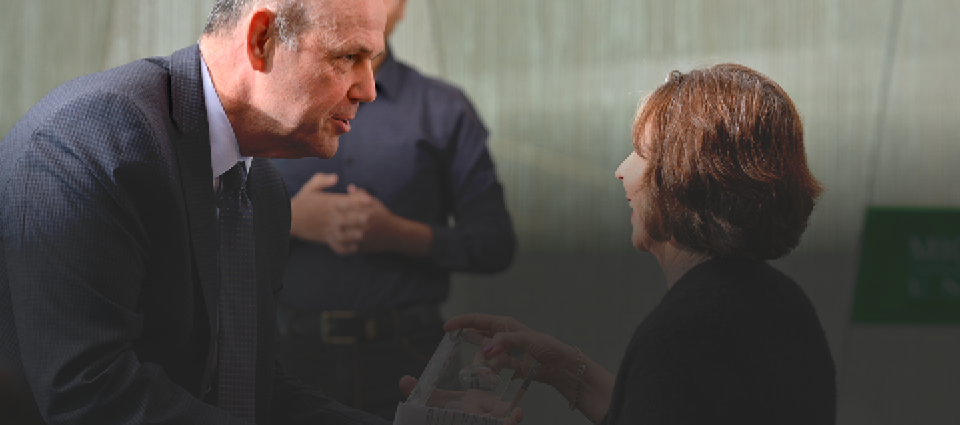 ---