Global Spartans Virtual Reunion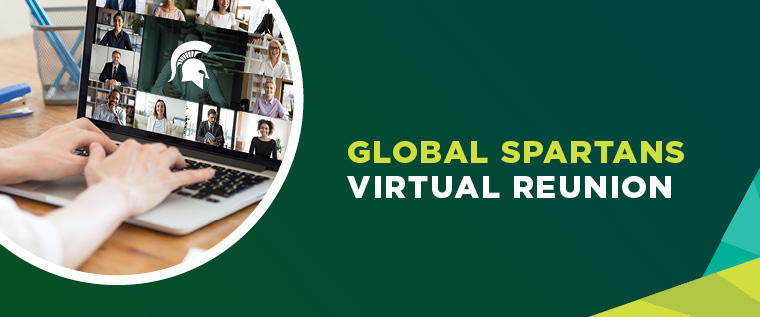 Staying Engaged in Uncertain Times
Thursday, May 28, 2020
8:00–9:00 AM ET (UTC–04:00)
---
Michigan State University's Office for International Advancement is delighted to host the first Global Spartans Virtual Reunion for all international alumni and friends.

Meet and connect with Spartans around the world, and hear from a panel of MSU alumni and staff who will reflect on their experiences during the pandemic. An update will also be shared on MSU's international alumni engagement efforts and response to COVID–19.

The reunion will be hosted on Zoom through Michigan State University. Pre–registration is required. For any questions, please contact Michael Cylkowski, Communications Coordinator.
---
Panelists
Derek Wallbank
Senior Editor, Bloomberg News
B.A. 2006, Journalism, Communication Arts and Sciences

Derek Wallbank is a senior editor with Bloomberg News, based in Singapore, where he covers breaking news during Asia market hours and is currently the news wire's point person for breaking news on the coronavirus pandemic for the Asia–Pacific region. Derek has led Bloomberg's breaking news coverage across the biggest events of the last few years, including the U.S.–China trade war, and the failed Trump–Kim summit in Hanoi, as well as major summits including last year's G–20 in Japan.

Before moving to Asia in 2019, Derek ran Bloomberg's breaking news desk in Washington, covering the White House, Congress, campaigns and elections, federal regulations, and U.S. foreign policy. He is the former chairman of the board of governors of the National Press Club in Washington, where he has been a member for more than a decade and advocated for press freedom at home and abroad.

A Florida native, Derek received a bachelor's degree in journalism from MSU's College of Communication Arts and Sciences in 2006. During his time at MSU, he met his wife, Eeda, and together have two daughters, ages 9 and 7.


Stephen S.Y. Wong
Co–Founder and CEO, Dory Network Technology Ltd.
B.A. 1996, Marketing, Eli Broad College of Business

Stephen Wong is a leading evangelist, corporate practitioner, and educator of Design Thinking in Asia. He is also a frequent speaker and mentor in the startup and innovation communities. Stephen is the co–founder of Dory Network Technology, a company focusing on using design and technology to create social impact globally. He is also founder and lead curator of the nonprofit Design Thinking community in Asia, Design Thinking in Action (DTIA).

Stephen has served in Swire Coca Cola, leading the direct to consumer, smart retail, and vending business strategy in China. Additionally, he was CEO of Asia Miles for 7 years where he grew the program to 11 million members globally.

Stephen specializes in insight–driven innovation, strategic planning, loyalty marketing, CRM, analytics, and sales and digital marketing. He received a bachelor's degree in marketing from MSU's Eli Broad College of Business in 1996. He is also a Sloan Fellow of the Stanford Graduate School of Business with a master's degree in management, and a certificate in public management and social innovation.


Krista McCallum Beatty, Ph.D.
Director, Office for International Students and Scholars
Michigan State University

Dr. Krista McCallum Beatty joined MSU in January 2019 as the director of the Office for International Students and Scholars (OISS) where she leads a team of 20 professionals who provide comprehensive support to MSU's international students and scholars. She has the best job at MSU because she gets to serve the best and brightest students and scholars from around the world.

Prior to MSU, Krista held similar roles at Iowa State University and Ohio University. She earned two degrees from the University of Minnesota, the School for International Training, and Ohio University, and is the recipient of two Fullbright Awards. She has also held multiple leadership roles in NAFSA: Association of International Educators and frequently presents on international student and scholar services.

A native Minnesotan, Krista and her family have quickly come to call East Lansing home. Walking along the banks of the Red Cedar, eating ice cream from the MSU Dairy Store, and cheering 'Go Green!' have become part of her daily routine.