VIPP welcomed administrators from various universities in Guizhou province, China for an Innovative Student Management and Services week-long workshop in the first week of December. VIPP is pleased to connect the delegation to MSU's administrators to discuss Higher Education and university structure.
Guizhou delegation and MSU administrators posing with the John Hannah Statue located in front of the Hannah Administration Building
The delegation started the week with an introduction and foundational keynote from the Erickson Distinguished Chair Emeritus (Department of Education), Professor Roger Baldwin. to talk about current U.S. Higher Education overview and U.S. university organization structure and responsibilities of its main units. This not only helps the delegation have a solid understanding of the U.S. Higher Education systems, but it also sets the foundational framework for the following keynotes.
The group enjoyed their first speaker – Professor Roger Baldwin
In this busy week-long program, our delegation met with MSU faculty and administrators from various branches of student affairs, including Admissions Office, Office of Registrar, Financial Aid Office, Office of Inclusion and Intercultural Initiatives, Neighborhood Student Success Collaboration and Career Services Network, etc.
Gizhou province administrators explores the MSU Admissions Office
Meeting with Office Inclusion and Intercultural Initiatives (I3) to learn about
diversity and inclusion at MSU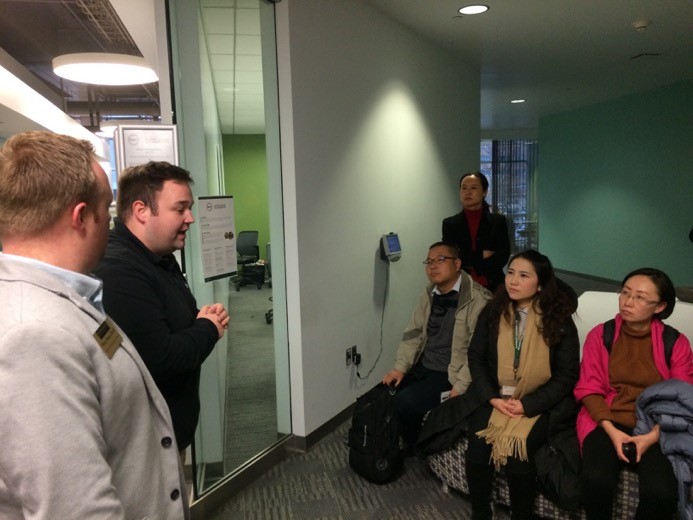 Our delegation is excited to learn about Neighborhood Student Success Collaboration (NSSC)'s at the Brody Engagement Center and is listening attentively about academic advising
Last, the delegation heard from Dr. Deborah DeZure (MSU Associate Provost Emerita) on professional development for faculty and administrators, and also student-centered active and interactive learning. Dr. DeZure is well-known VIPP keynote speaker. She has taught multiple intensive workshops on Teaching and Learning in Higher Education for VIPP workshops.
Dr. Deborah DeZure spoke to the Guizhou delegation about professional development and ways of learning
VIPP wishes the administrators from Guizhou province all the best in their work, continuing to serve students with their professionalism and passion. Go green, go white!