International Studies and Programs
Michigan State University
International Center
427 N. Shaw Lane
Room 207
East Lansing MI 48824-1035
Tel: +1-517-355-2350
Fax: +1-517-353-7254

Website questions:


Back to Directory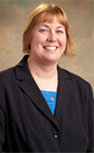 Chris Bargerstock
Associate Director
Office for International Students and Scholars
105 International Center

chrisb(at)msu.edu
Biography: Chris Bargerstock is Associate Director at OISS. She completed her B.S. degree in Social Science at Michigan State University and her M.P.A. (Masters of Public Administration) from Wayne State University. Chris works with faculty and staff to processes H1-B petitions for MSU. Chris has 3 wonderful children with whom she spends her free time away from the office. Chris has lived in Michigan all her life. According to Chris, "OISS is unique because working in OISS brings the world to me."