On March 29, International Studies and Programs celebrated staff, students and community members for their efforts to foster international understanding at the 2017 International Awards Ceremony.
"I've gotten back to re-reading some of the speeches of my predecessor, John A. Hannah," Michigan State University President Lou Anna K. Simon told the gathering. "He naturally assumed that we have a responsibility to think globally and act locally, and think locally and act globally. So today we can celebrate who we are, what we stand for, and the long legacy of people who are committed to doing good, no matter what or where."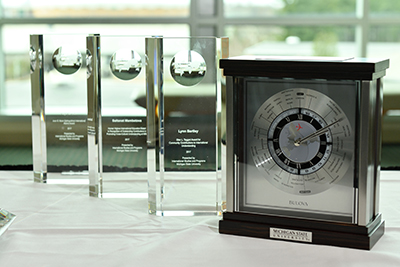 The event held at the Huntington Club in Spartan Stadium recognized 10 members of the Spartan community with awards that honor leaders in the areas of international research, teaching, sustainability and engagement. Yvonne Camaal Canul, superintendent of the Lansing School District and MSU alumna, served as emcee.
"As Spartans, we are resilient in the face of uncertainty and unwavering in our commitment to global partnerships that reflect our core values of quality, inclusivity, and connectivity," said Steven Hanson, associate provost and dean of International Studies and Programs.
Other individual award recipients are:
Nicole Mason, assistant professor in the Department of Agricultural, Food and Resource Economics, was the recipient of the John K. Hudzik Award Emerging Leader in Advancing International Studies and Programs. Mason's work focuses on agricultural policy analysis. She has developed an internationally recognized research and teaching program focused on development economics with emphasis on policy and sustainability.
Matti Kiupel, professor in the Department of Pathobiology in the College of Veterinary Medicine, received the Special Recognition Award for Promoting International Understanding. Kiupel investigates infectious diseases, cancer biology and diagnoses, with an impact on veterinary and human health. He developed a new test to diagnose Leishmaniasis, one of Brazil's major public health concerns.
Peter LaPine, associate professor in Communicative Sciences and Disorders, was the recipient of the Ralph H. Smuckler Award for Advancing International Studies and Programs. For 15 years, LaPine served as co-director for a program to give students in the Department of Communicative Sciences and Disorders the opportunity to study speech-language pathology in medical setting in the United Kingdom.
Fredy Rodriguez Mejia recently received his PhD in anthropology and received the Gill-Chin Lim Award for Outstanding Doctoral Dissertation in Global Studies. Mejia's dissertation explores Ch'orti' Maya cultural revitalization approaches and the people's struggle to win recognition of their rights to land as indigenous people in the region of Copan, Honduras.
Koji Kuroda, president of the Japan Expressway International Company, received the Joon S. Moon Distinguished International Alumni Award. Kuroda is the president of the Japan Expressway International Company, which designs, constructs and invests in expressway projects in Indonesia, Vietnam and potentially Cambodia, Myanmar, Thailand, Philippines, and India.
John Hudzik, a professor of criminal justice at MSU, received the MSU Award for Outstanding Service to Study Abroad. Hudzik has developed implemented and advocated for more than 39 study abroad programs at MSU, nationally and internationally. His latest book, Comprehensive Internationalization, focuses on higher education approaches to implement global engagement.
Lynn Bartley was the recipient of the Glen L. Taggart Award for Community Contributions. Bartley is the president of the board of the Greater Lansing United Nations Association. She has also built and supported global understanding in K-12 schools, local communities and the wider world.
The Homer Higbee International Education Awards were also presented at the ceremony. These awards are granted to MSU students and one member of the Community Volunteers for International Programs (CVIP) for their contributions to enhance international communication, understanding and cooperation on campus. This year's recipients are:
Michael Cylkowski, senior studying international relations, and International Advancement Intern at International Studies and Programs.
Saltanat Mambetova, doctoral student in the department of Plant, Soil and Microbial Sciences.
Wendy Pope, community volunteer and coordinator of the World Gift Shop managed by CVIP at MSU's annual Global Festival.