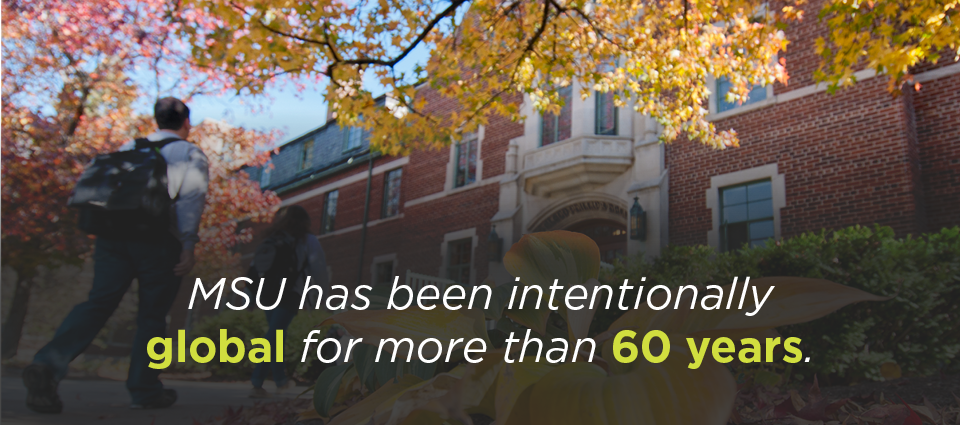 International Studies and Programs (ISP) is the hub for international research, teaching and outreach at Michigan State University.
---
International Studies and Programs
Michigan State University has been intentionally global for more than 60 years, and is known worldwide as a top research university. It is home to renowned scholars and scientists from around the globe and a vibrant and diverse community of undergraduates and graduate students. MSU leverages international partnerships with scientists and practitioners from academia, the government, private sector, and strategically chosen research and development organizations to create new knowledge and explore innovative and practical solutions to the world's most pressing problems.
The growth of Michigan State University's international work can be tied to the development of the Office of International Studies and Programs (ISP). ISP is the hub for international research, teaching and outreach at MSU. As a university-level office under the leadership of an associate provost and dean, ISP supports international activities throughout the institution, working to mobilize MSU's research and scholarship, enhance study abroad and other educational programs, form and strengthen international partnerships, and welcome and support international visitors, scholars and students.
Within ISP are seven global thematic and area studies centers, programs for students and scholars, and resources for international travel and safety, international research collaboration, and faculty and student support. ISP also has strong ties to affiliated international units across campus focusing on agriculture, business, education, engineering, health, international development, and language study.
A defining characteristic of the MSU model is that ISP does not have its own solely assigned faculty. Consistent with the goal of spreading the international dimension throughout the university, all faculty members have their major academic appointments in university departments and schools across campus. This allows ISP to serve as a convener of interdisciplinary groups of faculty drawn from throughout MSU's 17 academic colleges. 
ISP's efforts expand and deepen MSU's global research and help create the scientific knowledge needed for responding to the world's emerging opportunities and global goals. ISP works to position MSU as a leader in international research and scholarship, the internationalization of higher education, and as an indispensable partner in global collaborations. 
---
International Student Impact
Since admitting its first international students in 1873, MSU has welcomed tens of thousands of international students and scholars. Today, MSU is home to more than 4,500 students and scholars from 130 countries. In addition to their academic and cultural contributions on campus, these students also have a tremendous positive economic impact, contributing hundreds of millions of dollars to the local economy and supporting thousands of jobs in the region.
Source: NAFSA