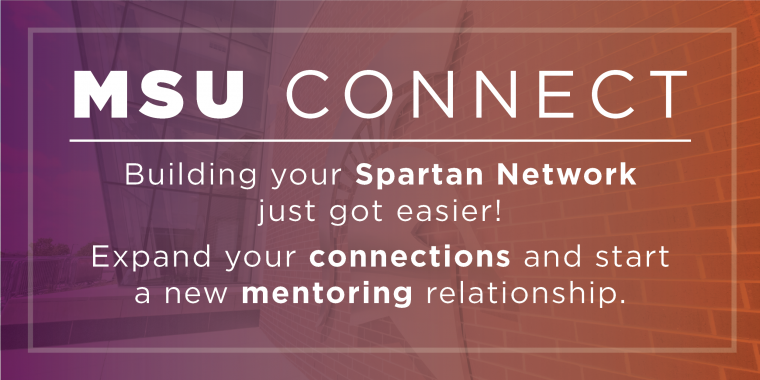 Where new Spartan connections begin!
---
MSU Connect for Students
Career Exploration. Connect with alumni to explore your career interests and discover new possibilities.
Mentoring. Choose a mentor and gain practical insight and advice into companies, industries, and preferred destinations.
Career Readiness. Learn more about the expected skills and experiences needed to be successful in your chosen career.
Informational Interviews. Gain a competitive advantage in interviews, applications, and your career search by leveraging expertise and experience of alumni.
---
MSU Connect for Alumni
Guide the Next Generation of Spartans. Share your experience and advice with current students and support their career exploration and readiness.
Grow Your Network. Connect with current and future Spartan leaders, while also benefiting from personal, social, and professional opportunities.
Advance Your Career. Connect with fellow alumni who can support your own career interests and development.
---
For questions or additional information, contact Bingbing Chen, Associate Director of International Advancement.