The Peace Corps recruiting office at Michigan State University is dedicated to communicating the goals and objectives of the United States Peace Corps to the MSU community. We work to encourage interest in the Peace Corps and improve potential applicants' qualifications and competitiveness. We also make continual efforts toward Peace Corps' Third Goal, that of sharing the culture of our host country with Americans, in coordination with the Returned Peace Corps Volunteer community in Greater Lansing.
---
About Peace Corps
As the preeminent international service organization of the United States, the Peace Corps sends Americans abroad to tackle the most pressing needs of people around the world. Peace Corps Volunteers work at the grassroots level toward sustainable change that lives on long after their service—at the same time becoming global citizens and serving their country. When they return home, Volunteers bring their knowledge and experiences—and a global outlook—that enriches the lives of those around them.
Office Hours: Thursdays 12 noon - 2 pm
Returned volunteers can connect on the Peace Corps Facebook.
The Peace Corps Mission
To promote world peace and friendship by fulfilling three goals:
To help the people of interested countries in meeting their need for trained men and women
To help promote a better understanding of Americans on the part of the peoples served
To help promote a better understanding of other peoples on the part of Americans
MSU is among Peace Corps' 2019 top volunteer-producing schools. If you're interested in learning more about the United States Peace Corps, the application process, feedback on your application, or joining the RPCV community, contact us! We'll be happy to help!
---
Peace Corps Prep
MSU also offers Peace Corps Prep, a certificate program for undergraduates that centers on one empowering question: How can you prepare yourself to be the best Peace Corps Volunteer you can be?
2022 Peace Corps Prep + Recruiting Information Session + Sector Chats
Tuesday, March 1, 2022
4 to 6 p.m.
International Center, Room 303
In the first hour, the Peace Corps Prep Program manager will give a program overview, followed by information from the campus Peace Corps recruiter. In the second hour, attendees will have an opportunity to chat with the presenters as well as returned Peace Corps Volunteers from a variety of sectors.
Learn more about Peace Corps Prep >
---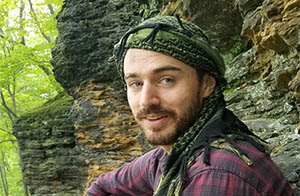 Samuel Bigley, Morocco 2017-19
---
---