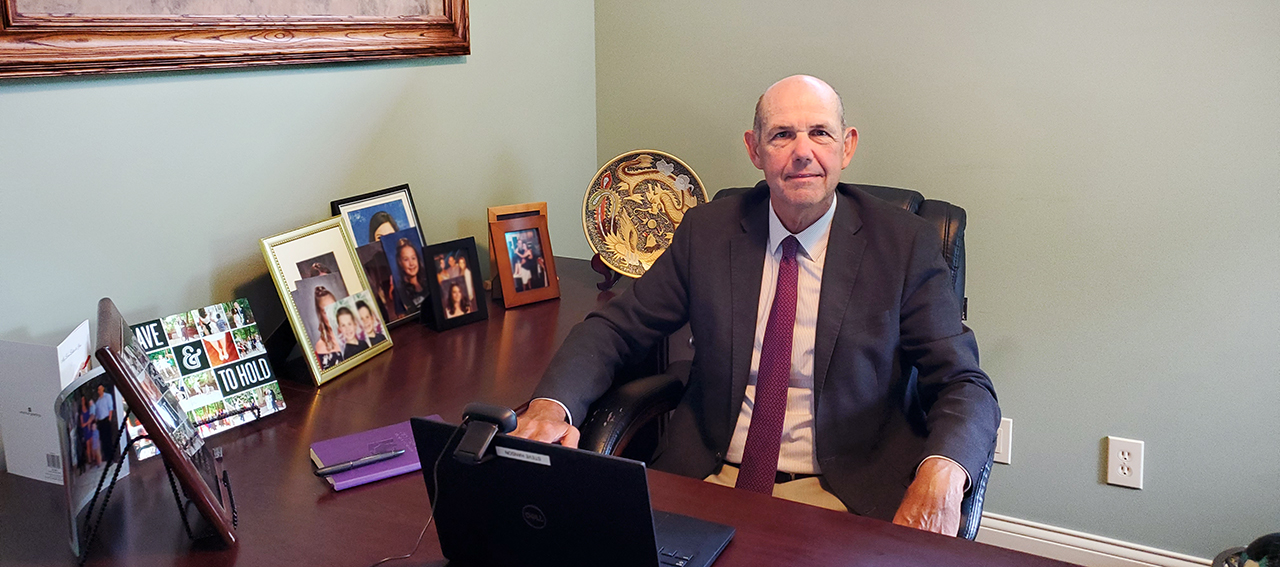 Steven D. Hanson works from his home office at the start of fall 2020.
---
As we all process and adjust to the monumental shift MSU is making in order to stay safe, I'd like to take the time to address our phenomenal Global Spartan community.
First, I have full faith in university leadership to continue making decisions that are guided by science and prioritize the health and safety of the entire Spartan community—even when that means staying home and adjusting the way we learn, work and collaborate. Personally, I have a newfound appreciation for my home office as a safe place to connect with my colleagues across the globe. As we come together in new ways this fall, we must acknowledge that the world has fundamentally changed.
We have changed.
Although this year has not been easy, the Spartan family has risen to the occasion and adapted to these extraordinary times with grace and resilience—even as that resilience is continuously put to the test. We may be tired. We may be scared. We may be unsure.
But whether we are six feet or 6,000 miles apart, we are together.
Together, we welcome the Global Spartan community back from all the varied places and in all the different forms it takes. Distance does not diffuse our shared experiences across the more than 130 countries Spartans call home.
We will work together in empathy and resolve as we ask ourselves "now what?" We will remain determined to change our corners of the world with humility and hard work. Living our global values has never been more important.
While we may not be able to physically travel or be together in traditional settings right now, we can and should still be globally engaged. This pandemic has proven that the world is incredibly interconnected, and the global solutions we seek require international collaboration. So I encourage you to find your path as a Global Spartan. Start learning a new language, attend a webinar about a different part of the world, or just reach out to send a virtual wave to your global cohorts. May we all be guided to do the next right thing—whether in the digital classroom, in the field, or in our communities.
I have never been prouder to be a part of MSU, alongside so many adaptable, innovative Spartans who care deeply about the university and our international partners—and most importantly, who care about each other. I look forward to your continued creativity as we seek new ways to connect and engage with our students, faculty and colleagues all over the world.
Together, we will.

Steven D. Hanson
Associate Provost and Dean, International Studies and Programs
Steven D. Hanson Biography