International Studies and Programs
Michigan State University
International Center
427 N. Shaw Lane
Room 207
East Lansing MI 48824-1035
Tel: +1-517-355-2350
Fax: +1-517-353-7254

Website questions:


Back to Directory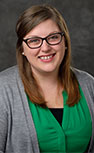 Bristol Day
International Student Advisor/Front Desk Supervisor
Office for International Students and Scholars
105 International Center

daybrist(at)msu.edu
Biography: Bristol Day is an F-1 student advisor and front desk supervisor. Bristol is originally from Detroit and earned her Bachelor's degree from Kalamazoo College in Sociology and Anthropology and her Master's degree from Michigan State University in Student Affairs Administration. She has previously worked at MSU as a Community Director in Residence Education and Housing Services and as an AdviseMI Program Director at the Michigan College Access Network, a nonprofit in Lansing. Bristol has studied abroad in India, Scotland, and England and has spent time in Shanghai and Beijing, China.