International Studies and Programs
Michigan State University
International Center
427 N. Shaw Lane
Room 207
East Lansing MI 48824-1035
Tel: +1-517-355-2350
Fax: +1-517-353-7254

Website questions:


Back to Directory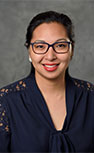 Leehoor Stephanie Ly
International Student Advisor/Front Desk Supervisor
Office for International Students and Scholars
105 International Center

lsl(at)msu.edu
Biography: Leehoor Ly serves is an F-1 student advisor and works with ISEA Award and International Student Group Funding. Leehoor emigrated from Canada in 2001 and she has called Michigan her home ever since. She earned her undergraduate education at Michigan State University (B.A. Pre-Law Humanities). Leehoor speaks English, Khmer, French and a basic Thai. She would love to travel outside of North American someday to taste cuisines from all around the world.