International Studies and Programs
Michigan State University
International Center
427 N. Shaw Lane
Room 207
East Lansing MI 48824-1035
Office of the Dean
+1-517-355-2350

Office for International Students and Scholars
+1-517-353-1720

Website questions:


Back to Directory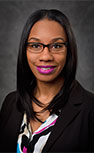 Ashley Green
Assistant Dean of Administration
Office of the Dean
207 International Center

agreen(at)msu.edu
Biography: Dr. Ashley Green is the assistant dean of administration at MSU's International Studies and Programs. In this role, Dr. Green provides leadership in the implementation and administration of international programs and global initiatives that advance and strengthen university wide missions related to research, instructional, outreach and engagement activities. She oversees a variety of administrative functions including international partnership processes and protocols.

As ISP's director of Diversity, Equity and Inclusion, she is tasked with ensuring that the global dimension is integrated into campus DEI efforts and activities. She created and chairs a cross-campus Global DEI Task Force charged with developing campus resources to reinforce inclusive practices in a global context. Dr. Green also serves as the Principal Investigator and Director of the Hubert H. Humphrey Fellowship Program, Fulbright Programs, and Peace Corps.

Before coming to ISP, Dr. Green was the director of scholarships for the National and International Fellowships and Scholarships Office within MSU's Honors College, where she led the daily operations of the office and assisted students in pursing national and international funding awards. Before joining NIFS, Dr. Green was the program manager for the Hubert H. Humphrey Fellowship program in the Center for Advanced Study of International Development within ISP. Her higher education administration experience also includes roles at Grand Valley State University, the University of Toledo and the University of California, Berkeley.

Dr. Green earned a bachelor's degree in psychology from MSU; a master's degree in higher education student affairs from the University of Toledo; and a doctorate in educational leadership and administration from Western Michigan University. Her doctoral research and dissertation focused on the experiences and motivation of successful African American first generation college students.