International Studies and Programs
Michigan State University
International Center
427 N. Shaw Lane
Room 207
East Lansing MI 48824-1035
Tel: +1-517-355-2350
Fax: +1-517-353-7254

Website questions:


Back to Directory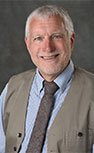 Andrew Roberts
Educational Program Coordinator
Office for International Students and Scholars
12D International Center

aroberts(at)msu.edu
Biography: Andrew Roberts is an Educational Program Coordinator, working mainly with international students whose situations are unusual and may take a longer time to resolve. Andrew holds a Bachelor of Arts in human geography, a Bachelor of Law, and a Master's in Public Administration, as well as a teaching certification and part of a Master's degree in social work. Coming from the French part of Canada, Andrew is fluent in French and functional in Spanish.

Andrew works with students and sometimes their families in connection with a number of urgent or longer-term circumstances, including health, financial, and other matters that were unforeseen. The goal is often to become 'unstuck', weigh options, then find and move toward the best and most productive path forward. There is tremendous satisfaction for all in seeing worthy Spartans succeed, however that may be in their own eyes.