Global DEI Webinar Series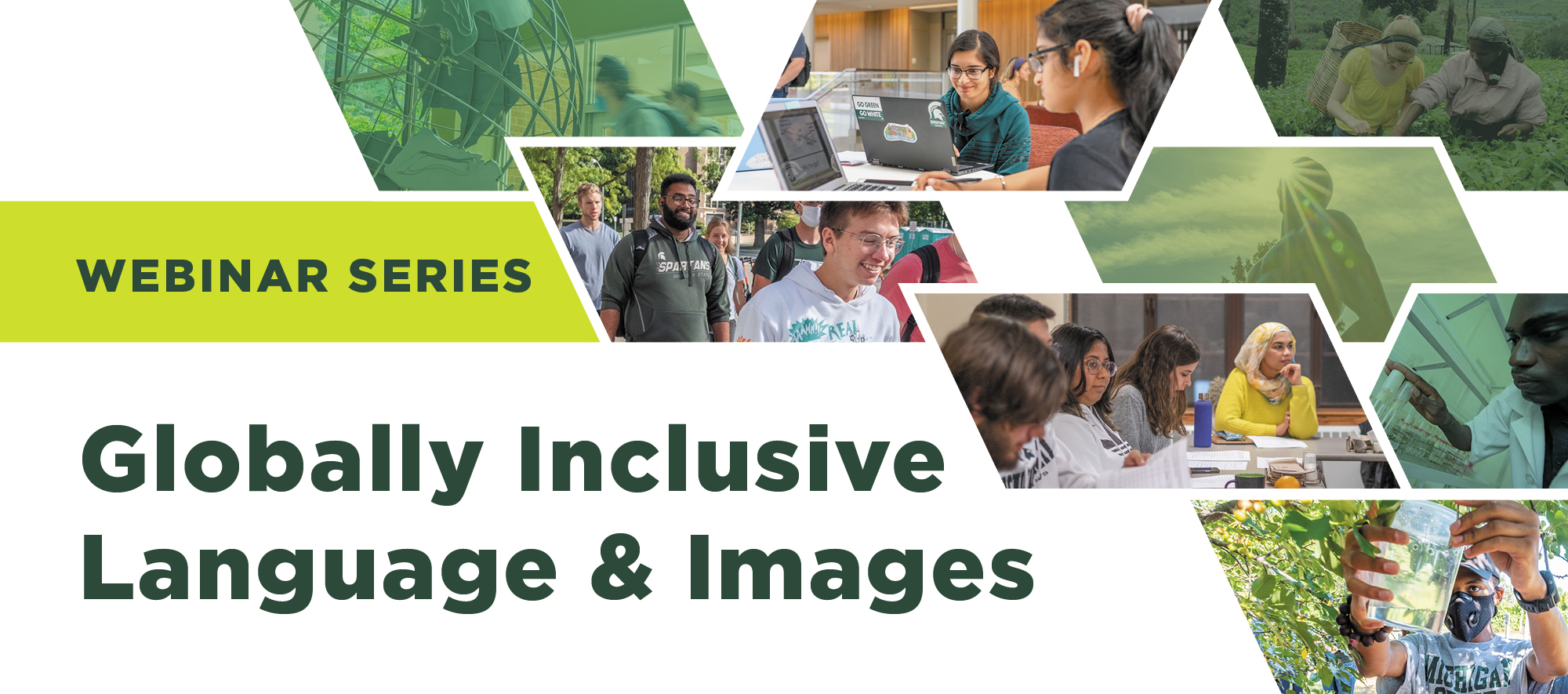 International Studies & Programs and the Global DEI Task Force present a three-part webinar series on using inclusive language and images in a global context.
---
MSU is a vibrant, global community of students, faculty, staff and partners from around the world. In support of MSU's long-term commitment to international engagement, the Globally Inclusive Language & Images webinar series will serve as a catalyst for campus-wide reflection and action by offering information and resources that reinforce globally inclusive practices.
The Globally Inclusive Language & Images sessions will:
Demonstrate the need to shift from centering the U.S. Spartan experience toward celebrating MSU's global community
Highlight lived experiences from international colleagues, students and scholars
Raise awareness around biases that lead to common missteps
Empower participants to examine, reflect on and revise current approaches
Provide tools, tips and resources to implement change
At the conclusion of this series, attendees will be equipped with expanded knowledge and resources to implement and reinforce globally inclusive practices in their work and personal lives.
The Globally Inclusive Language & Images learning series welcomes anyone and everyone in our MSU community to participate—administration, faculty, staff, students and scholars—especially those who develop university-related internal and external communications.
---
November 30, 2021: An Introduction
What is globally inclusive language and why is it important? The first webinar in the series will focus on how language and images are perceived in a global context and the need for an intentional shift toward communications that de-center the U.S. perspective and celebrate our Global Spartan community.
Introduction
Teresa Woodruff, Provost and Executive Vice President for Academic Affairs
Steven Hanson, Associate Provost and Dean for International Studies and Programs
Moderator
Ashley Green, Assistant Dean for Administration and Director of Diversity, Equity and Inclusion, International Studies and Programs
Panelists
Luis Garcia, Director, Migrant Student Services
Salah Hassan, Director, Global Studies in Arts and Humanities and Associate Professor, Arab American and Muslim American Studies
Jamie Monson, Director, African Studies Center and Professor of History
Judith Walgren, Associate Director and Professor of Practice, School of Journalism
Adesoji Adelaja, John A. Hannah Distinguished Professor 

in Land Policy, 

Department of Agricultural, Food, and Resource Economics
Webinar recording will be available shortly.
January 2022: Putting into Practice
How do globally inclusive language and images contribute to a welcoming university community? In this session, attendees will be given real-world examples, including common missteps and best practices, and learn how to begin implementing and strengthening more globally inclusive communications.
Page will be updated with additional details as they are available.
February 2022: Tips, Tools and Resources
How do we ensure we're being globally inclusive? Building upon the first two sessions, this webinar will focus on practical tips, tools and resources that can help attendees integrate more globally inclusive practices in their work and personal lives.
Page will be updated with additional details as they are available.