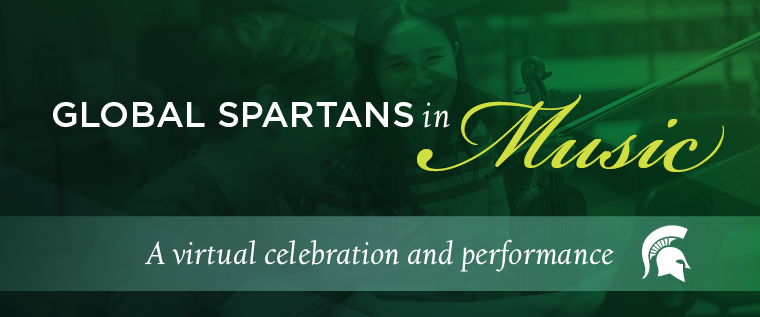 We're saving you a seat center stage!
The College of Music and International Studies and Programs at Michigan State University invite you to Global Spartans in Music
—

a special virtual celebration and performance in support of MSU's international students in music on Thursday, December 10. The program will showcase exclusive performances by Global Spartan musicians, and feature a welcome from MSU leadership and alumni.

Confirm your attendance by completing registration at the bottom of the page.

To learn more about how you can get involved, please contact Daniel Spadafore, senior director of International Advancement.
---
Global Spartans in Music
A virtual celebration and performance
Thursday, December 10, 2020
7:00 AM ET (UTC-05:00)
---
Support the College of Music International Student Fund
International students in the MSU College of Music are adapting to new safety protocols for performances, rehearsals, and gigs while also navigating the challenges of living and learning remotely. Due to the lack of music performances as a result of the COVID-19 pandemic, student musicians have limited access to internship experiences and performing opportunities which typically help to cover their living expenses and further their musical entrepreneurial studies. These experiences are critical for students' development and success as performers, and enrichment as they begin their careers in a competitive teaching and music industry.

The College of Music International Student Fund ensures international music students have access to innovative, exploratory learning experiences, while conducting meaningful work with partner organizations they are passionate about. Through our collective effort, you can help create engaging opportunities for international students to share their love for music with the world and ensure their livelihoods during this challenging time.

---
Arts Administration Internship
This award provides a $1,200 stipend for an 8-12 week remote internship experience, working approximately 10 hours per week for an arts organization of the student's choice. This opportunity provides students with an understanding of how arts organizations work, access to employment opportunities beyond performing and teaching, and important networking in their field.


Entrepreneurial Project
This award provides a $600 stipend for students working on an entrepreneurial project—building their brand, business, or future career through project-based work. Projects build student capacity and may fund course or event fees, materials, technology, commissioning costs, or other barriers to creative and innovative work.
---
Join us for a global musical experience!
Confirm your attendance by completing the registration form below.