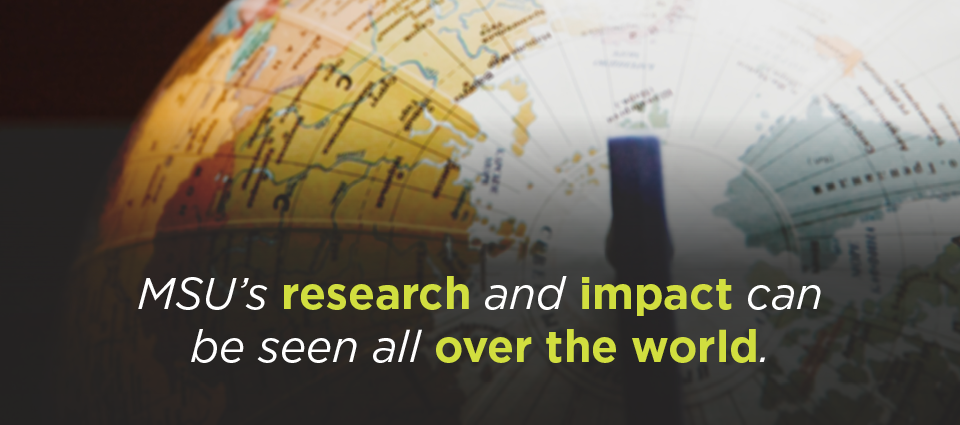 MSU's research and impact can be seen all over the world. Our faculty, staff, and students are involved in international research, development and study in more than 170 countries all across the globe.
---

Africa
Michigan State University has a rich history of engagement in Africa that traces back more than a half-century. Today, MSU has more than 60 active research and development projects in Africa, including work in food, agriculture, health, and education. MSU's African Studies Center is one of ten Title VI National Resource Centers on Africa designated by the U.S. Department of Education, based on the Center's faculty expertise in research, teaching, and service on the continent. 

---

Asia
MSU's work and expertise in Asia is driven by more than 200 faculty members working across 46 disciplines. The Asian Studies Center is designated a Title VI National Resource Center by the U.S. Department of Education, and directs one of the largest, most diverse programs of education about Asia in the Midwest. 
---

Canada
MSU's work with Canada is led by the Canadian Studies Center. The oldest center of its kind, the center has been identifying and addressing opportunities for collaboration between the U.S. and Canada for more than 50 years. Its more than 70 faculty span 30 departments and are working on projects ranging from textile development to natural resource regulation and water research. 
---

Europe, Russia, and Eurasia
The university's strength in European, Russian and Eurasian studies is led by more than 60 faculty working across 30 disciplines such as language study, political science, history, art, and engineering. Housed within International Studies and Programs, The Center for European, Russian and Eurasian Studies provides outreach support and language education, including less commonly taught languages. 
---

Latin America and the Caribbean
More than 170 faculty across 65 departments are engaged in projects and programs in Latin America and the Caribbean, ranging from study abroad opportunities for undergraduates to research projects in agriculture, health, and engineering. MSU's Center for Latin American and Caribbean Studies has provided regional expertise and leadership across MSU's mission of research, teaching, and outreach for more than four decades.