Think "Shark Tank," but add in a whole lot of clapping, cheering, and even some loud whistles. That was the energetic mood at the Entrepreneurship Competition at last month's Global Youth Advancement Summit (GYAS). It was a Wednesday afternoon and this was the main event everyone had been waiting for. Out of the 118 delegates who traveled from 38 countries to attend the three-day summit at Michigan State University, eight were going to pitch their ideas before a panel of judges and a large audience. There was an air of excitement in the room and unity among the delegates.
"The competition was amazing," said Nancy Charaya, a delegate from India. "People were cheering for each other and not just focusing on their own presentations." The eight young entrepreneurs took to the stage to pitch their innovative idea or project—much like the contestants who pitch their products on ABC's hit television reality show "Shark Tank." They were competing for seed capital and had to impress a panel of judges that included venture capitalists from Africa, Asia, Latin America and the United States—and they only had three minutes to wow them.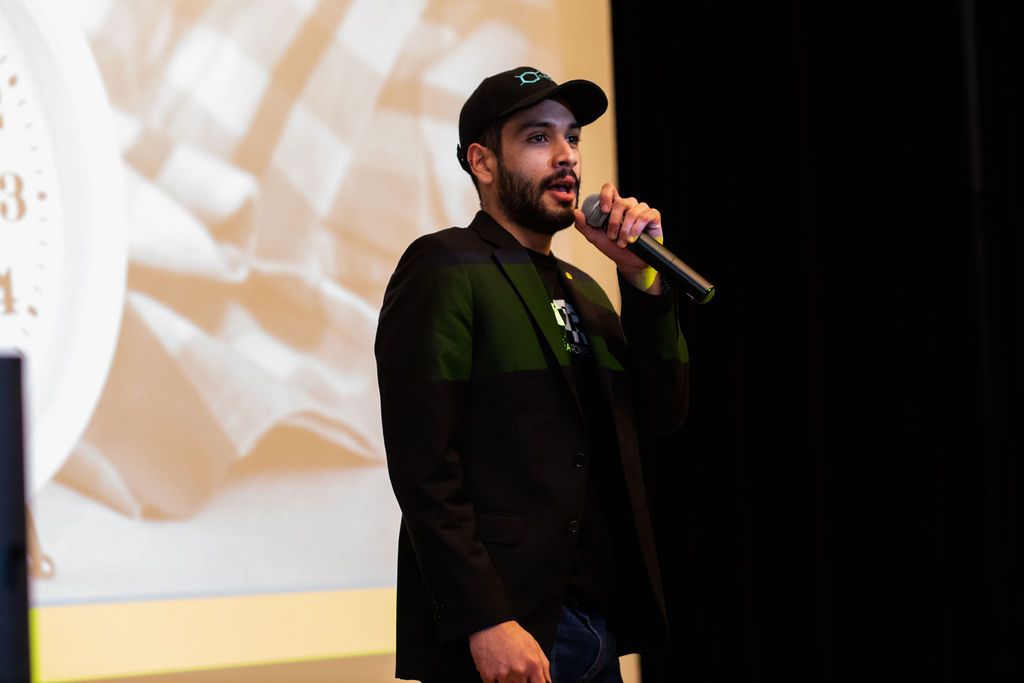 "We had not been able to sleep in like two weeks," said Juan Pablo Esquivel of Colombia. "It was a big day. We were really nervous. We had done pitches in Spanish before, but this was our first time pitching in English."Putting his nerves aside, Esquivel presented to the audience about CAPIO, a technological system that helps improve the quality of life and movement of patients with Parkinson's disease. CAPIO is based on stimulation that permits the patient to use a part of the brain that is less affected by the disease, allowing for a more fluid gait and movement. Additional founders are fellow Colombians Juan David Figueroa and Julian Valencia, who also attended the summit. The team hopes their project will have a big impact on the health and science industries, and the judges also saw the potential in such a breakthrough. Esquivel and his team walked away as the third place winners with seed capital of $2,000. "We want to thank Michigan State University for this great opportunity to share with all kinds of people," Esquivel said.
"People were cheering for each other and not just focusing on their own presentations." - Nancy Charaya, delegate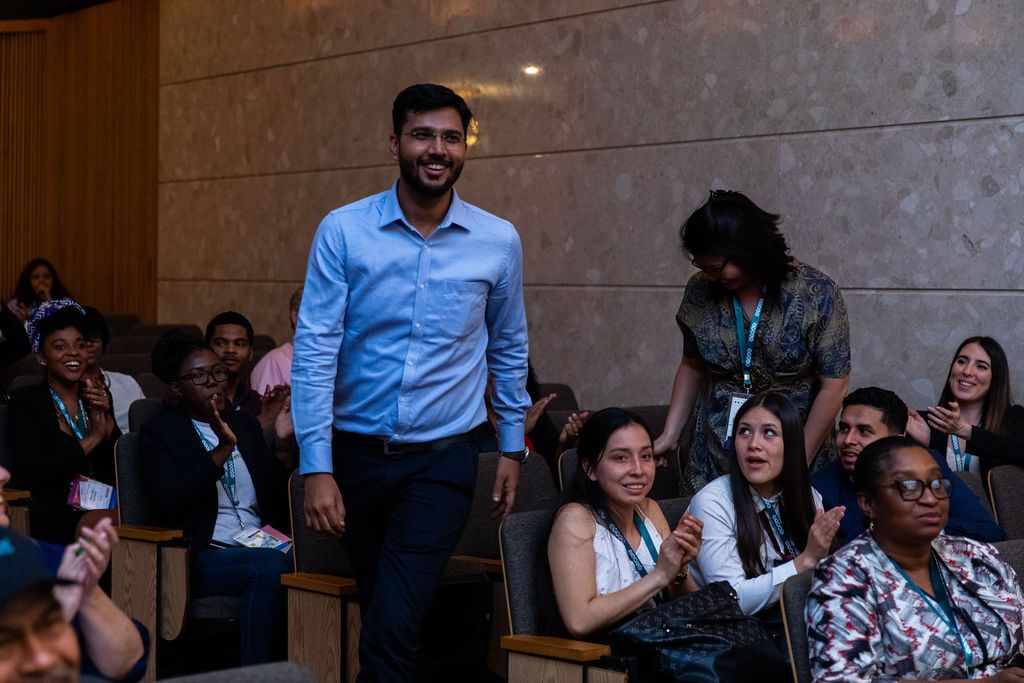 Two winners were yet to be announced and the excitement was contagious. The cheering and clapping reached a fever pitch when Yogesh Kumar's name was announced as the second place winner. His company is Even Cargo, India's first female-only e-commerce logistics company. Only one out of four workers in India is female and Even Cargo brings women into a profession that has traditionally been male-dominated. According to a McKinsey report, bridging that gender gap could mean trillions for India's economy. Kumar was awarded $3,000 for his company.
It may not have been easy, but the judges were prepared to name the first-place winner. People were now on the edge of their seats wondering who would collect the $5,000 grand prize. The crowd roared and rushed the stage when the judges announced it would be Barbara Agyapong of Ghana. She is the founder of BidiGreen, which is helping to build sustainable cities in Ghana by creating an ecologically friendly alternative to charcoal using agro-waste. The initiative reduces deforestation and environmental degradation in Ghana while also providing new jobs to coal producers who were left jobless by the switch. Agyapong, a political science student at Kwame Nkrumah University of Science and Technology, was elated to have walked away with the top prize.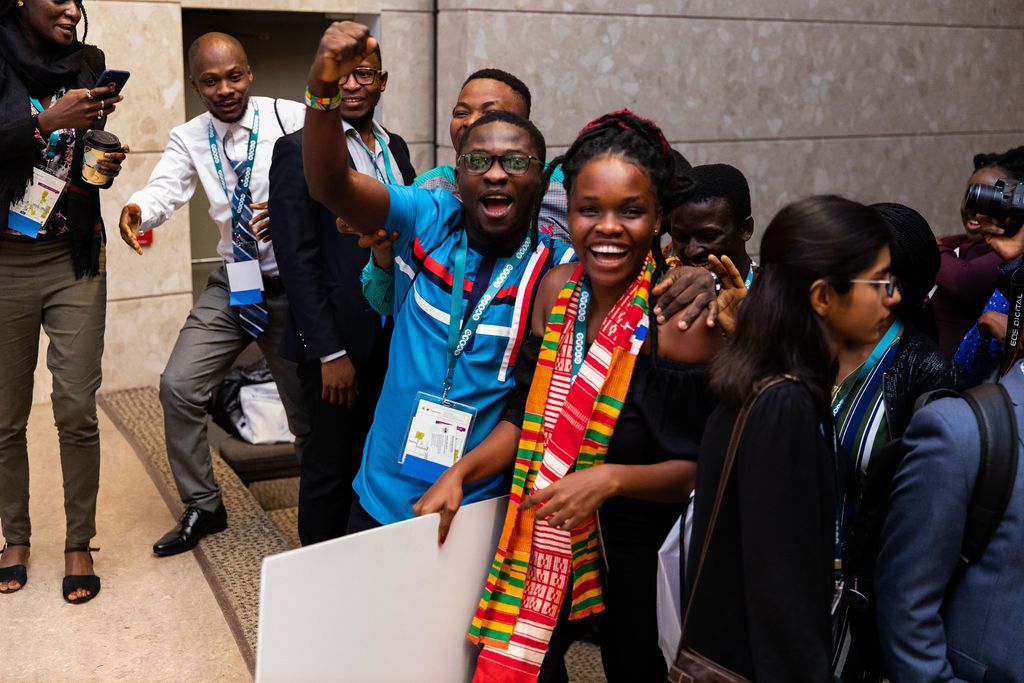 "All of the eight entrepreneurs that pitched were equally amazing," said Chinwe Effiong, assistant dean for MSU's Global Youth Advancement Network, which organized the summit. "I wouldn't have wanted to be a judge because how do you choose three from all those incredible pitches?" Delegates in attendance agreed. "It was amazing," said Rodrigo Vazquez Munguia of Mexico City. "That competition was with people who deserved to be there. They are changing lives already." Adewunmi Emoruwa, a delegate from Nigeria added, "I found the pitches to be very inspiring."
The prize money for the entrepreneurship competition was made possible as part of the platinum sponsorship by the African Development Bank, the biggest sponsor for the summit. "We are proud to be a partner," said Ed Mabaya, who represented the African Development Bank at the GYAS. "We believe in making investments in youth." Additional major sponsors of the summit were the Ford Foundation, the Alliance for African Partnership, Mutiu Sunmou of Nigeria, and various offices and centers at Michigan State University.
The entrepreneurship competition was just one highlight from the first-ever Global Youth Advancement Summit, which included more than three days of workshops, poster presentations, case studies, and panel discussions. "The event was revolutionary, providing an exciting and innovative avenue for Michigan State to connect to and learn from an impressive group of young people," said Steven Hanson, associate provost and dean of International Studies and Programs at MSU.
Inspiration was the general consensus as the delegates packed up and headed out of East Lansing as global citizens with renewed strength and an abundance of passion and dedication to make a difference in their corner of the world. "It has been a great opportunity to exchange experiences and to know people from different cultures," said Beatriz Buarque of Brazil. "The summit gave me the possibility to know that we have young leaders from different continents and different countries working to change our world—to heal our world."
Effiong sees MSU as playing a key role in convening the next generation of global leaders. "This is my vision," she said. "Young people from all over the world—the best minds, the best innovators—coming together through MSU, linking hands and addressing some of the global challenges that we have felt are impossible, such as climate change, poverty, and mental health. They are addressing those in innovative ways and seeing real change happen around the world, and MSU is in the middle of all that." Mary Anne Walker, who served as a mentor for the summit, agrees. "They are just incredibly talented young people with amazing ideas that are going to help change the world."