Cooking Up Memories
Spartan PhD ventures into Haitian kitchen to study cultural identity
Walk into almost any Haitian kitchen and you'll likely spot a jar of epis. The marinade of blended herbs, spices and vegetables is a staple in Haitian homes and it is the common ingredient added to most Haitian dishes. Linger a little longer and your eyes might rest on griot (fried pork), pikliz (pickled cabbage and carrots) or stew, and diri kole (rice and beans). Plenty of rich, flavorful dishes, love, and learning come out of Haitian kitchens and it's where MSU alumna Shewonda Leger says she received the early life lessons that molded her into the professional and global citizen that she is today.
"The Haitian kitchen is a tool for studying and making sense of Haitian culture and identity practices."- Shewonda Leger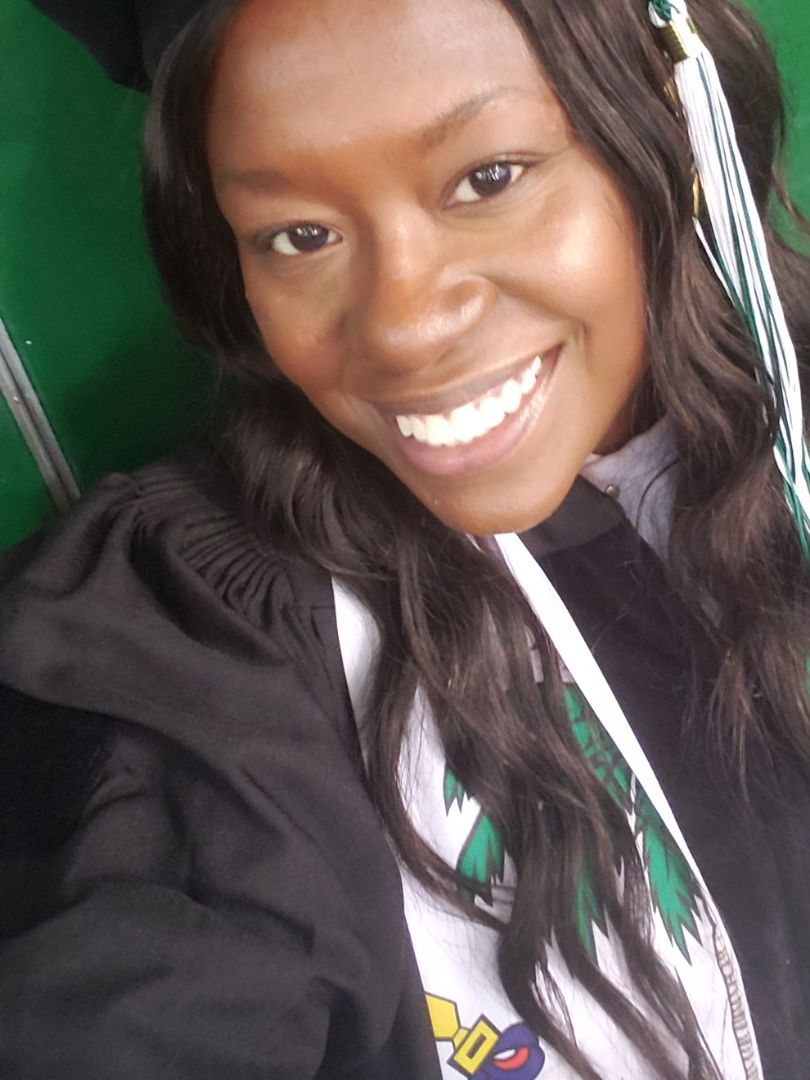 Leger is a newly minted PhD who completed her doctorate in Rhetoric and Writing this spring at Michigan State University. For her dissertation, her research focused on diasporic Haitian women and their cultural identities. She honed in on the Haitian kitchen. Why? "I love food," she says. "The smell of food reminds me of my mother." Working in the kitchen alongside her mother, grandma and aunts helped shape Leger's identity as a Haitian-American, Caribbean, and Black woman.
The kitchen is the center of the home for many Caribbean women—a place where they can bond and communicate with each other and hand down valuable lessons as they are chopping, mixing, and preparing meals for their families and friends. So, Leger explains, she thought the kitchen would be the perfect laboratory for her work. "The Haitian kitchen is a tool for studying and making sense of Haitian culture and identity practices. [As children] we were in the kitchen to learn. Multiple stages of growth and identity construction were occurring in those moments."
As Leger reflected on her own identities, she decided she wanted to get other Haitian women involved in the conversation to discuss cultural and racial identities, traditions and experiences. "Identity and culture are built through these recipes—so we're talking about food, but it's not really about food," she says. Her research took her on a journey from mid-Michigan to New York to meet with diasporic Haitian women, some of whom migrated to the United States from Haiti when they were children. She visited the homes of Jennifer Delvois and Rolguine Moreau of Brooklyn,where they bonded in the kitchen over Haitian recipes and shared traditions. Back in mid-Michigan, Leger sat down with Lisa-Marie Pierre, a Haitian-American woman who also shared similar stories and recipes. With all three women, cooking in the Haitian kitchen was a celebration of their cultural identities.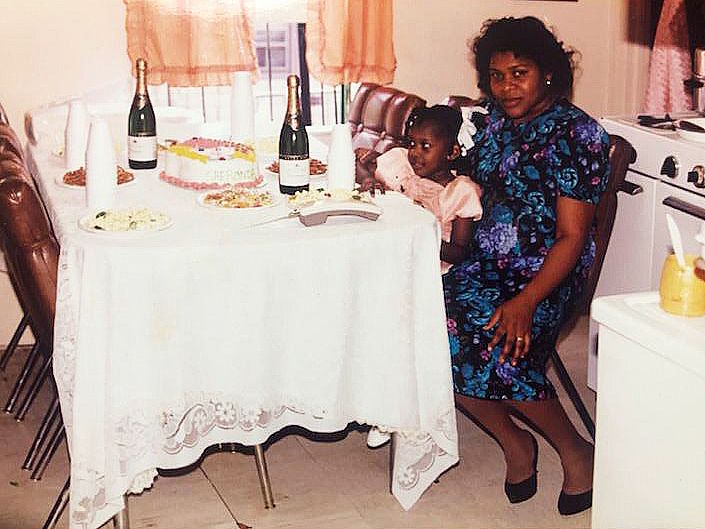 During their conversations, Leger had the women pull out old photographs of themselves to help them further understand their cultural identities. The photos are an important part of Leger's dissertation because photographs are a connection to the past—a reminder of people, places, things, and feelings.
Leger had each woman collect photos with a time span of five to 10 years to help discover what stories and memories would come from this period of reflection and if their identities shifted over time. The women were surprised at some of the findings. "They were able to recognize growth to name their identities for themselves," Leger says. The women were also able to make sense of their spiritual practices and its connection to their upbringings.
A Different Kind of Dissertation
This spring, Leger successfully defended her dissertation, entitled "The Cultivation of Haitian Women's Sense of Selves: Towards A Field of Action." But it wasn't in the typical format. Because of the research topic on Haitian culture and identity, Leger felt it was important to connect directly with the Haitian community. "They need to be able to engage with the theme," she explains.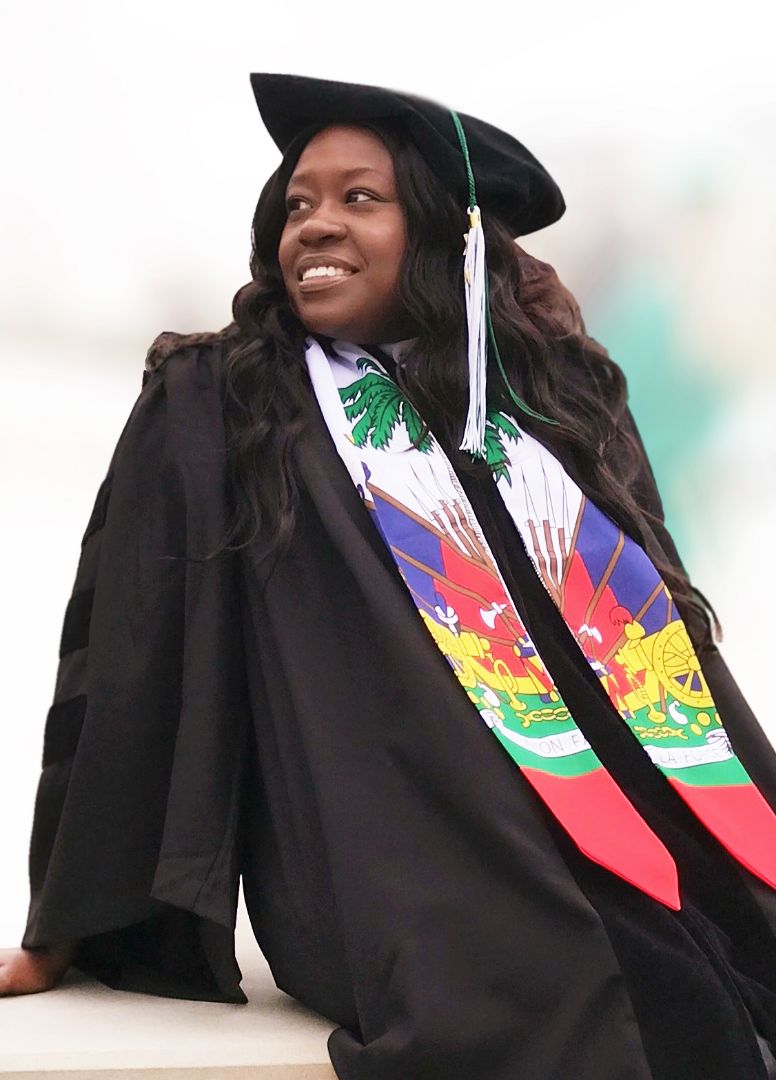 To foster that connection, Leger took advantage of multiple formats. Instead of the traditional written research paper, Leger's dissertation included a website, documentary, and photography. "The multimodal format changes the way you receive information," Leger says. "The stories are more powerful and accessible." Users can open up her dissertation to watch and listen to the stories shared by Lisa-Marie, Rolguine, and Jennifer. It is also important to Leger that her dissertation be presented in terms that people outside of academia could understand. "Anyone can watch and read the dissertation and they will still be able to interact and connect with it," she says.
For the daunting task, Leger was her own "one-woman band," writing, shooting and editing video, and taking photos herself. "I didn't have a team. I had to carry equipment, set up equipment, and make sure everything was working," Leger says. "I taught myself—you learn as you go." In addition to learning how to operate the equipment, Leger also built her own website and made multiple trips to New York to film the documentary. She admits it was strenuous and grueling, but she doesn't regret it. She formed a sisterhood with Jennifer, Rolguine, and Lisa-Marie.
The journey has inspired her to broaden her film horizons. While the multimodal technique for dissertations isn't exactly new, it's not common at Michigan State University and Leger says initially there wasn't a system to archive her dissertation. "This forced the graduate school to figure out how to archive non-traditional dissertations," she said. But Leger has opened the door for others who may want to incorporate other new techniques into their dissertations.
The Importance of Representation
The representation of Haitian women by a Haitian woman is a crucial part of Leger's journey. "There's not really much conversation happening about Haitian women in rhetoric and composition," Leger explains. "Why not talk to Haitian women and hear their stories and get us into conversations that are happening?" Because the experiences of Haitian women, and minority women overall, are often invisible, Leger is unapologetic in her quest to give diasporic Haitian women a voice—and this mission is a personal one. As a little girl, she was molded into who she is today by the women she looked up in the Haitian kitchen. She emphasizes the importance of role models for Caribbean and black children, especially young girls, to help them imagine the careers they can obtain and the places they can go. As a Haitian-American woman in academia, Leger drives home the point of how minority women on- and off-campus are underrepresented. By elevating and amplifying the discussion of women of color, particularly diasporic Haitian women, she sees an opportunity for growth and a period of reflection.
As she continues her work post-graduation, Leger is considering making another documentary. "I might get more women involved to bring in more experiences." She wants to take a deeper look at the shifts in gender practices over generations. "My sister and I were raised in the kitchen, but my brother is just now learning how to cook."
Life after MSU also includes a change of scenery. Leger recently moved back to her hometown in South Florida where she accepted an assistant professor position at Florida International University in Miami. "I'm excited to be back—I can get involved in the community, do more film, and other projects. There's a lot of work to be done."