Global Voices: Waiting for Rain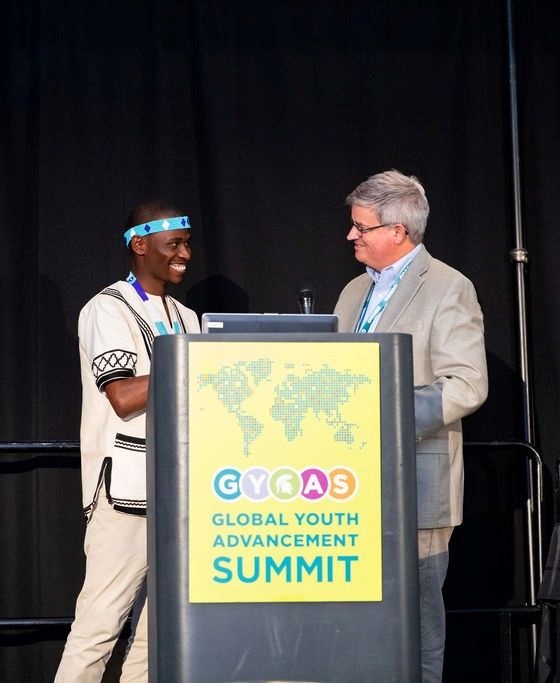 Returning from the Global Youth Advancement Summit, I had nothing but pure excitement. I was fired up, bubbling with what I had learned and the connections I had made. I was so excited that I reached out to several people in my community to try and understand what challenges they faced and how I could apply my acquired knowledge to help them improve their lives. I was fortunate to come across a very talented farmer in our village named Caleb. I was particularly drawn to him because of his chosen farming style, called gatshompo. Instead of using the traditional farming technique and tools like the common ox-drawn plough and tractors, the farmer uses a hoe to dig individual planting basins. While this method was not invented by Caleb, it is a labor-intensive method less preferred by many, especially when working on large farms. For his farm alone, Caleb has to dig more than 15,000 basins. Gatshompo allows Caleb to give personalized attention and care to each plant, which gives him a better harvest than his local counterparts. Because of the nature and demands of this technique, other farmers are afraid to try it. They think Caleb is crazy.
As a prudent and determined farmer, Caleb's planting basins are always ready by July. Then, he waits for the first rains so that he can plant his crops. During our conversation, he shared how he dug and built a water reservoir on his farm so that when the rains are gone, he can continue to irrigate his crops. His ultimate dream is to produce food for the whole community, teach agriculture, and provide jobs for young people. However, there is a new threat to his cherished dream. The incessant changes in the rainfall patterns affect the amount of water he is able to collect. His 'dam' no longer fills up, so he only irrigates for a short while after the rains and then has to wait for the rains to return. For the past two years, our community has been waiting for the rains with no relief. As a result, hard-working farmers like Caleb can no longer feed their families or send their children to school.
Unfortunately, this is not the only drought that my village faces. Like the efforts and talent of the farmers, many people's talents are buried in the ground, dried by the sun, and trodden down by passers-by, desperately hoping for the rains to come and shower them so that they can spring back into life.
Only this time, the literal rain is not what is needed. There is a severe lack of opportunity for people from rural communities like mine to amplify their talents and realize their dreams. Our education system squeezes the creativity out of the learners' minds and dismally fails to develop them into innovative leaders that will solve the pertinent challenges in our community. The worst thing is that due to climate change, agriculture—which has always been the source of livelihood for many families—is no longer a viable option. Year after year, thousands of people in my village face acute food shortages. They are left to the mercy of food aid organizations. Other rural communities across the globe are no exception.
It is important, now, more than ever, to invest in educating rural young people. We need to equip them with the skills that will enable them to develop innovative solutions to the problems that they face in their communities. I believe that rural communities can come up with solutions to their problems. This would require us to support brilliant people like Caleb to realize their dreams. It would require us to spare our time to mentor these talented people and invest a little money to support their initiatives. We need to be that shower of rain that will raise their seeds of hope from the dust and turn them into a bountiful harvest.
I am confident that this can work. I, too, was born and raised in the same small village as Caleb. Because of the people who took a chance on me and supported me, I managed to get a good education and attend university. About two years ago, I started an initiative called Velamfundo to help more people from rural communities realize their full potential and make a difference in the world. At Velamfundo, we create learning opportunities for ordinary villagers through our community learning center. I consider this a journey to building thriving and resilient rural communities. I invite you to walk with me.
Mthabisi Ndlovu
Founder of Velamfundo, Mbembesi, Zimbabwe
Rising Freshman, African Leadership University, Rwanda
GYAS Delegate 2019