Michigan State University International Studies and Programs has named the recipients of this year's International Awards. Now in its 31st year, the International Awards program celebrates contributions by MSU faculty, students and community members in international research, teaching and outreach.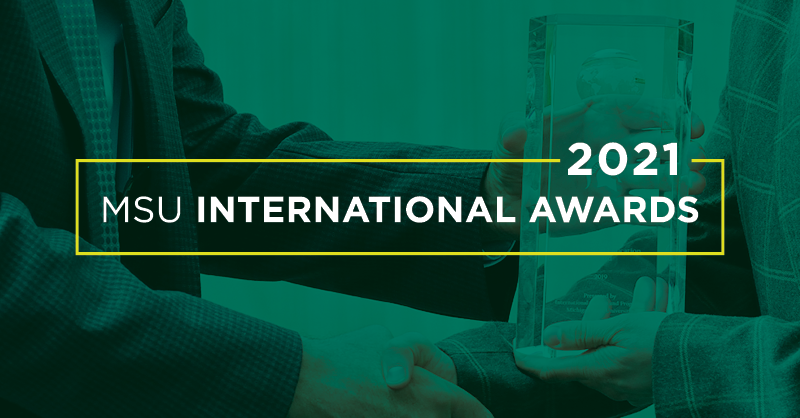 "The entire world is in the midst of an extraordinary shared challenge with COVID-19, demonstrating the absolute necessity of international cooperation," said Steven D. Hanson, associate provost and dean for MSU International Studies and Programs. "We are privileged to recognize a diverse group of exceptional Spartans who reach across borders and disciplines in their common commitment to global engagement."
ISP will honor the award winners on Thursday, April 15 at 3 p.m. EDT (GMT-4) during a virtual International Awards Ceremony. A special website highlighting the recipients' work and impact on MSU's international engagement will debut that day at isp.msu.edu/iac.
The 2021 International Awards recipients are:
Ralph H. Smuckler Award for Advancing International Studies and Programs at MSU
Mywish Maredia
Professor, Department of Agricultural, Food, and Resource Economics
College of Agriculture & Natural Resources
John K. Hudzik Emerging Leader in Advancing International Studies and Programs
Bethany Wilinski
Assistant Professor, Department of Teacher Education
College of Education
Joon S. Moon Distinguished International Alumni Award
Rohit Khattar
B.A., School of Hospitality Business, 1985
Eli Broad College of Business
Gill-Chin Lim Award for Outstanding Doctoral Dissertation in Global Studies
Yi Ting Chua
Ph.D., School of Criminal Justice, 2019
College of Social Science
MSU Award for Outstanding Service to Education Abroad
Karen Kangas-Preston
Senior Academic Specialist and instructor of costume design and technology, Department of Theatre
College of Arts & Letters
Homer Higbee International Education Award
Tracy Melvin
Ph.D. Candidate, Fisheries and Wildlife
College of Agriculture & Natural Resources
Glen L. Taggart Award for Community Contributions to International Understanding
Sung Lee
Commissioner, Lansing Regional Sister Cities Commission
President, East Lansing Rotary Club
Charles A. Gliozzo International Award for Public Diplomacy
John B. Kaneene
University Distinguished Professor of Epidemiology & Public Health
Director, Center for Comparative Epidemiology
College of Veterinary Medicine
Special Recognition Award for Promoting International Understanding
Wynne Wright
Associate Professor
Department of Sociology, College of Social Science
Department of Community Sustainability, College of Agriculture & Natural Resources