MSU top producer of Fulbright students and scholars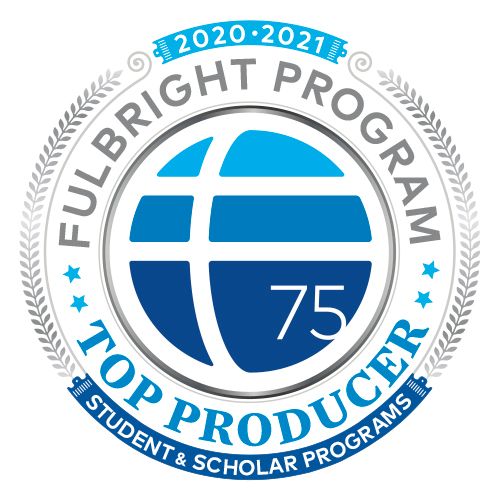 For the seventh consecutive year, Michigan State University has been named as a top producer of Fulbright scholars from colleges and universities in the United States. MSU is also one of only 17 institutions to receive the recognition as a top producer of both students and scholars this year.
Eleven students and 10 scholars received Fulbright awards for 2020-2021. (Scholar information was unavailable at the time of publication.)
The following students received a 2020-2021 award for work in their corresponding countries:
Leo Baldiga, Thailand, James Madison College
Andrew Carpenter, Turkey, James Madison College
Daniel Greeson, Portugal, College of Arts & Letters
Sudha Kannan, Zambia, College of Agriculture & Natural Resources
Grace Koepele, Italy, Residential College in the Arts and Humanities
Inna Mirzoyan, Armenia, James Madison College and College of Social Science
Vince Nguyen, Taiwan, Lyman Briggs College
Clayton Oppenhuizen, Chile, College of Social Science
Daniel Turner, Brazil, College of Agriculture & Natural Resources
Johnathan Vsetecka, Ukraine, College of Social Science
Tiffany Whittington, Taiwan, College of Arts & Letters
"As a globally focused institution, MSU provides a fertile ground for international work," said Ashley Green, assistant dean for administration at MSU International Studies and Programs. "MSU's Fulbrighters offer both innovative and practical global solutions to our shared challenges, particularly through their research grant experiences in areas like public health, economics, environmental studies, sociology, English teaching and so much more. We are deeply proud to be a longstanding top producing Fulbright institution."
The Fulbright Program was created to increase mutual understanding between the people of the United States and the people of other countries. Each year the U.S. Department of State's Bureau of Educational and Cultural Affairs announces the top producing institutions for the Fulbright Program. The Chronicle of Higher Education publishes the lists annually.
Students, scholars, teachers, artists and professionals of all backgrounds and fields have the opportunity to study, teach and conduct research, exchange ideas, and contribute to finding solutions to important international problems. The global network of Fulbrighters fosters mutual understanding between the United States and partner nations, advances knowledge across communities and improves lives around the globe.
Additionally, 17 Spartans from six colleges have been named semi-finalists in the 2022-2023 Fulbright U.S. Student Program competition.
"This current cycle is the most competitive in the program's 75-year history," said Joy Campbell, MSU Fulbright program advisor. "The Institute of International Education, which administers the student Fulbright program, received a record 11,728 applications. This represents a 12% increase from the previous year's applications."
Semi-finalist applications are now being reviewed by Fulbright Commissions in the various host countries, with finalists being named on a rolling basis from March through May.
"Thanks goes to my predecessor, Roger Bresnahan, former Fulbright advisor at MSU for his years of dedication to the program," added Campbell. "We are celebrating many of these milestones due to his work prior to retirement."
The next student competition opens March 31. For details, go to isp.msu.edu/fulbright.
For more information about the Fulbright Program, visit eca.state.gov/fulbright.