Space and Grace: Mitigating Bias as Spartans Return to Campus
Back to News
Ashley Green, assistant dean for administration and director for diversity, equity and inclusion at International Studies and Programs, was part of a distinguished panel on MSU Today with Russ White to discuss mitigating bias as Spartans return to campus.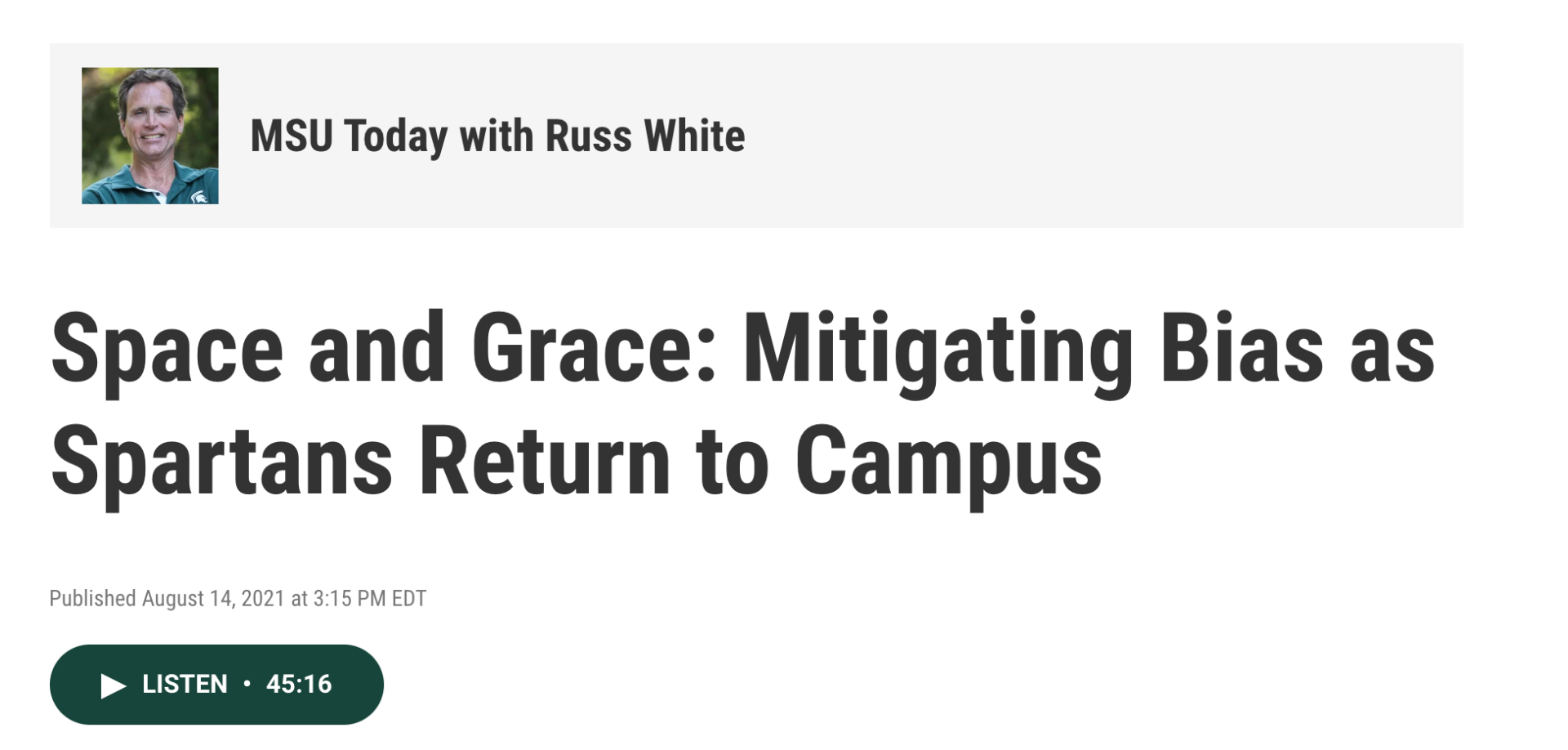 White asked: What's the relationship between DEI and the COVID-19 pandemic? In what ways are people differentially affected based on their identities?
"We know that some people are at a higher risk because of their race or ethnicity due to underlying conditions, or more so because of lack of access to regular healthcare and preventions. But there could also be differentials in the impacts of dealing with the trauma or the aftermath," said Green. "So if you come from an area where numerous loved ones have died from the disease, you now have an added layer of trauma or grief that impacts your mental and physical health due to the actual COVID-19 disease.
"And I have to also mention the differential impacts on our workforce, such as differences in salary adjustments, furloughs, possible inequities in work assignments, power dynamics, and from a personal perspective, women who are juggling heightened full-time work and additional duties at home while managing children being schooled from home. And then more specifically, as it relates to some of the international population, they have had to navigate a number of issues such as border closings disabling them from entering their home countries or leaving to come to the U.S., navigating time zone challenges when trying to participate in courses and meetings virtually, less than ideal internet in various parts of the world, and fears of being unable to obtain a visa for educational or professional traveling thereby resulting in decreased opportunities to travel, which impacts international research and global experiences for our faculty and students. And then lastly, other issues of DEI that are exacerbated in virtual spaces include lack of connection and hands-on physical support. There are some language barriers that are heightened in virtual spaces or while wearing a mask as well."
To read the full article and listen to the other interviews, visit wkar.org.