Titus O. Awokuse Named ISP Associate Dean for Research and Strategic Partnerships
International Studies and Programs at Michigan State University has appointed Titus O. Awokuse as associate dean for research and strategic partnerships, effective Feb. 1, 2022. In this role, Awokuse will advance international research, education and outreach engagement by building upon existing and developing new partnerships.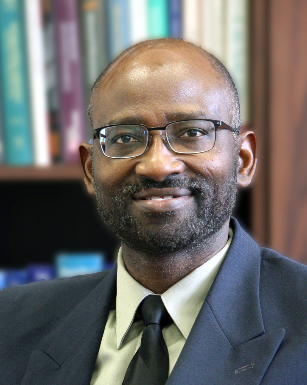 "Awokuse brings to ISP considerable international development and academic leadership experience, which will support and facilitate global research and strategic partnerships on MSU's East Lansing campus and around the world," said Steven Hanson, associate provost and dean of International Studies and Programs. "I am thrilled to welcome him in this new capacity as an internationally respected scholar and outstanding practitioner of authentic global engagement."
Awokuse is charged with facilitating MSU's international engagement with an emphasis on advancing the collection of institutional data for international scholarship, aligning international activities with national and international metrics and rankings, shaping and applying university protocols for research conducted in elevated and extreme risk locations, furthering MSU's international registration policies and procedures, and supporting central administration on ISP- and MSU-wide policies related to international engagement and compliance. He will work to develop and maintain relationships with key funding agencies, facilitate multidisciplinary research teams, and expand MSU's role as a leader around international themes, including food and agriculture, environment and energy, health and nutrition, and education.
"I am excited about the opportunity that this new position offers for collaborating with others to strengthen the scope and impact of MSU's global research and capacity building efforts around the world," said Awokuse. "I look forward to engaging with a wide range of MSU's stakeholders in addressing global sustainable development challenges."
Awokuse's experience in national governments, international development agencies, non-governmental organizations and business spans nearly 30 years. He joins ISP after serving as chairperson of and professor in the Department of Agricultural, Food and Resource Economics at MSU, providing oversight and visionary leadership for the largest and most diverse department in the College of Agriculture and Natural Resources. Previously, he was chairperson of and professor in the Department of Applied Economics and Statistics at the University of Delaware.
He has also made notable contributions to the agricultural and applied economics profession, serving as journal editor of Agricultural and Resource Economics Review and as the former chair of the National Association of Agricultural Economics Administrators section of the Agricultural and Applied Economic Association. Awokuse has received numerous accolades throughout his career, including several awards for outstanding service in journal editorship and excellence in research and teaching. He earned a bachelor of science degree in economics from Berea College, a masters in economics from Murray State University, and a doctorate in agricultural and applied economics from Texas A&M University.
"ISP also commends the commitment and contributions of DeAndra Beck, outgoing associate dean for research," said Hanson. "Beck's innovative leadership over the last seven years has facilitated more effective global travel processes and systems, furthered ISP's strategic planning efforts, convened communities of practice to solve worldwide challenges by launching Global IDEAS, and strengthened MSU's capabilities for identifying, acquiring and analyzing institutional data."