Volodymyr Tarabara Named Director of the Center for European, Russian and Eurasian Studies
International Studies and Programs is pleased to announce the appointment of Volodymyr Tarabara to the position of director of the Center for European, Russian and Eurasian Studies, effective Feb. 1, 2022. Tarabara will work collaboratively to provide intellectual and programmatic leadership to advance and promote excellence in Michigan State University's diverse research, teaching and outreach activities relating to European, Russian and Eurasian studies.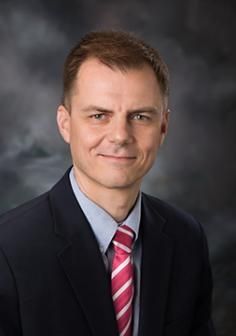 "MSU has benefitted from Tarabara's exceptional leadership in academic scholarship and global engagement during his tenure as CERES associate director," said Steven Hanson, associate provost and dean of International Studies and Programs. "His contributions have led to the creation of several innovative international partnerships that engage our European, Russian and Eurasian partners."
As director, Tarabara is charged with building on the success and reach of CERES programs that benefit from linkages with international institutions, facilitate opportunities for MSU faculty and staff to conduct research, scholarship, and outreach across all disciplines and colleges and providing opportunities for MSU students to receive a global perspective of the region.
"I intend to leverage my experience in innovating global solutions, creating global citizens and generating global investment to lead CERES in facilitating and participating in cross-university initiatives that contribute to MSU's values of access and opportunity."
In addition to serving as CERES associate director, Tarabara is also a professor in MSU's Department of Civil and Environmental Engineering. Previously, he served as associate director of MSU's Environmental Science and Policy Program.
As an accomplished scholar, Tarabara has co-authored over 90 journal papers, co-edited the Encyclopedia of Membrane Science and Technology, and currently serves as a journal editor of Separation and Purification Technology and for special collections of the Journal of Environmental Engineering. He is a recipient of the Paul L. Busch award from the Water Environment Research Foundation and three Fulbright awards. Tarabara earned a doctorate and masters in environmental engineering from Rice University and received his undergraduate education in physics from Moscow Engineering Physics Institute. In 2019, he received doctor honoris causa from the Agricultural University of Georgia, Tbilisi.
"We also express our gratitude to Norman Graham, outgoing and longstanding CERES director," said Hanson. "Graham's leadership over the last 26 years has supported the interests of a diverse array of MSU faculty members who work in Europe, establishing a substantial and impressive record of MSU research with European partners."