For release: Tuesday, March 8, 2022
Contact: Veronica Gracia-Wing
Fourteen Spartans and community members have been named recipients of the 2022 International Awards, presented by International Studies and Programs. Since 1990, the awards program has celebrated individuals whose contributions fulfill the university's mission to advance knowledge and transform lives across the globe.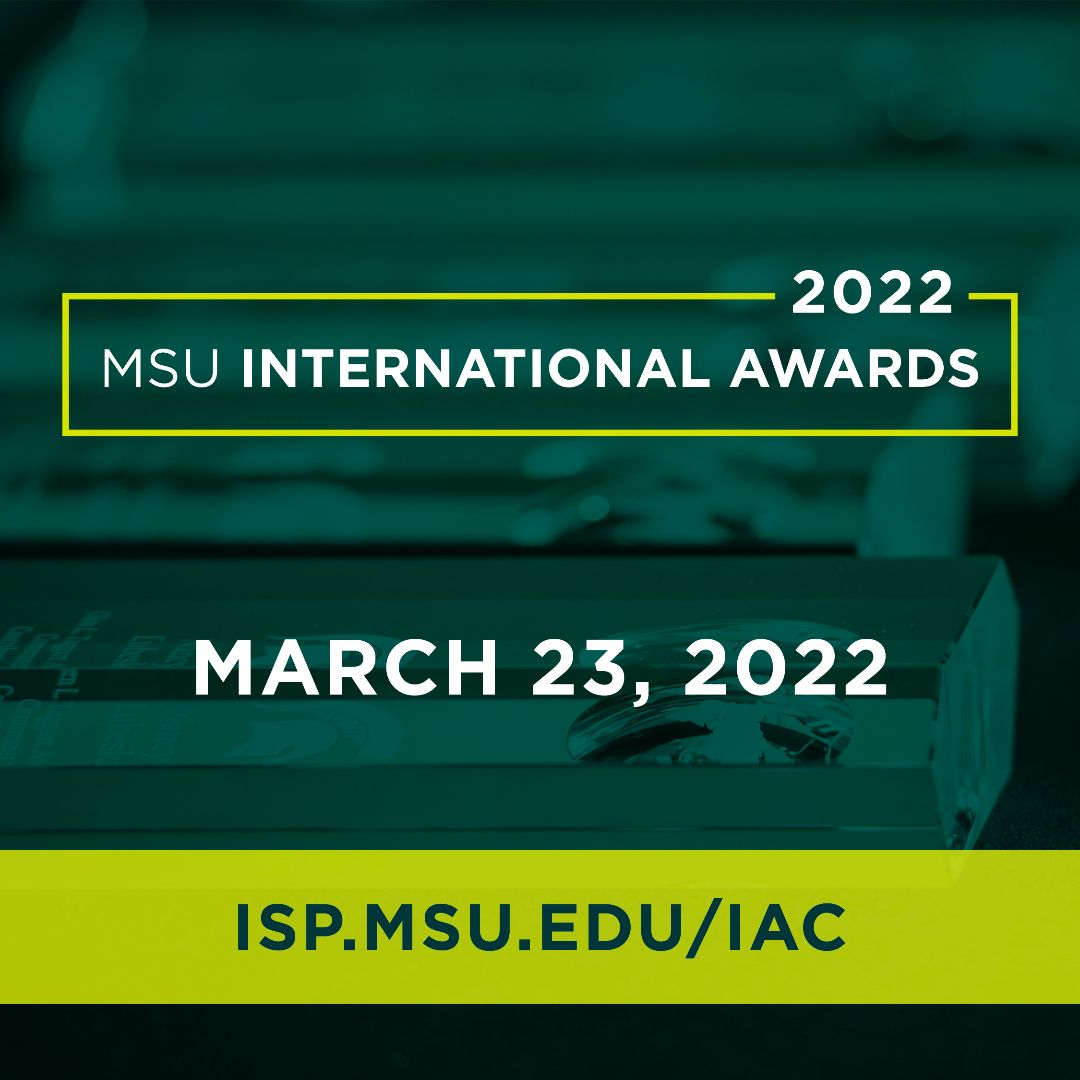 "MSU's global community is proud to recognize the creativity, resilience and compassion evident in the accomplishments of this year's award recipients," said Steven D. Hanson, associate provost and dean for MSU International Studies and Programs. "These exceptional Spartans have contributed positive, lasting change across the world, creating new paths to global engagement in truly extraordinary times."
ISP will honor the winners on Wednesday, March 23 at 3:30 p.m. EDT (UTC-4) during a virtual International Awards Ceremony. A website dedicated to highlighting the recipients' work and impact on MSU's international engagement will also debut that day at isp.msu.edu/iac.
The 2022 International Awards recipients are:
Ralph H. Smuckler Award for Advancing International Studies and Programs at MSU
DAVID L. TSCHIRLEY
Professor and Co-director, Food Security Group, Department of Agricultural, Food, and Resource Economics
College of Agriculture & Natural Resources
John K. Hudzik Emerging Leader in Advancing International Studies and Programs Award
SUSAN WYCHE
Associate Professor, Department of Media and Information
College of Communication Arts & Sciences
Joon S. Moon Distinguished International Alumni Award
REYNALDO V. EBORA
Ph.D., Entomology, College of Agriculture & Natural Resources, 1995
Executive Director, Philippine Council for Agriculture, Aquatic and Natural Resources Research and Development Department of Science and Technology, Republic of the Philippines
Gill-Chin Lim Award for Outstanding Doctoral Dissertation in Global Studies
JOHN DOYLE-RASO
Ph.D., Department of History, 2021
College of Social Science
MSU Award for Outstanding Service to Education Abroad
SUSANNE HOFFMANN-BENNING
Associate Professor and Director of Undergraduate Education, Department of Biochemistry and Molecular Biology
Associate Director, Genetics and Genome Sciences Graduate Program
College of Natural Science
YORE KEDEM
Assistant Professor of Hebrew, Department of Linguistics, Languages, and Cultures
Core Faculty, Michael and Elaine Serling Institute for Jewish Studies and Modern Israel
Affiliated Faculty, Global Studies in the Arts of Humanities
College of Arts & Letters
Homer Higbee International Education Award
HIMA RAWAL
Graduate Assistant, the Graduate School
Ph.D. Candidate, Second Language Studies Program, Department of Linguistics, Languages, and Cultures
College of Arts & Letters
Charles A. Gliozzo International Award for Public Diplomacy
JOHN M. KERR
Professor, Department of Community Sustainability
College of Agriculture & Natural Resources
Special Recognition Award for Promoting International Understanding
SHINTA SHINTAWATI
Associate Director for Global Education and Outreach, Russell Palmer Career Management Center
Eli Broad College of Business
Glen L. Taggart Award for Community Contributions to International Understanding
YUSUF SULTANI
President, Afghan Association of Michigan
In addition, the event will include a special presentation of the Dean's Global Impact Award, recognizing MSU staff who played a critical role in the evacuation of MSU-affiliated scholars and families from Afghanistan as the Taliban took control last year.
Dean's Global Impact Award
KURT R. RICHTER
Director and Principal Investigator, Grain Research and Innovation and Innovation Scholars Program
Director, Global Center for Food Systems Innovation
Associate Professor, Department of Community Sustainability
College of Agriculture & Natural Resources
JESSICA GARRELS
Senior Program Manager, Grain Research and Innovation, Global Center for Food Systems Innovation
CHRISTOPHER DANIEL
Director, Office for Global Health, Safety, and Security
SARAH WALTER
Associate Vice President for Federal Relations
Office of the Senior Vice President for Government Relations