VIPP 30th Anniversary Kick-Off Event unites alumni and friends in celebration
On Friday, March 26th, VIPP hosted a virtual 30th Anniversary Kick-Off Ceremony, the first event in its year-long celebration. The ceremony brought together VIPP participants, alumni, partners, faculty, and friends to celebrate, reconnect, and reminisce. Over 60 people from 10 different countries registered for the event. Representatives from various departments at MSU, as well as members of the community joined the celebration to wish VIPP a happy birthday. The atmosphere of the event was that of a global family reunion, with guests happy to see one another and reconnect, especially after being apart during the pandemic. Guests reflected on when they first arrived at MSU, learned about VIPP's history, and shared their hopes for post-pandemic life.
Dr. Steven Hanson, Dean of International Studies and Programs gave congratulatory remarks. In his speech, Dr. Hanson emphasized the impact that global exchange makes on people's lives, and shared his experiences meeting VIPP alumni abroad. "The power of international education and cultural exchange for young scholars, educators, managers, journalists, artists, engineers, and other professionals is extraordinary, and I see the long-lasting effects every time we meet."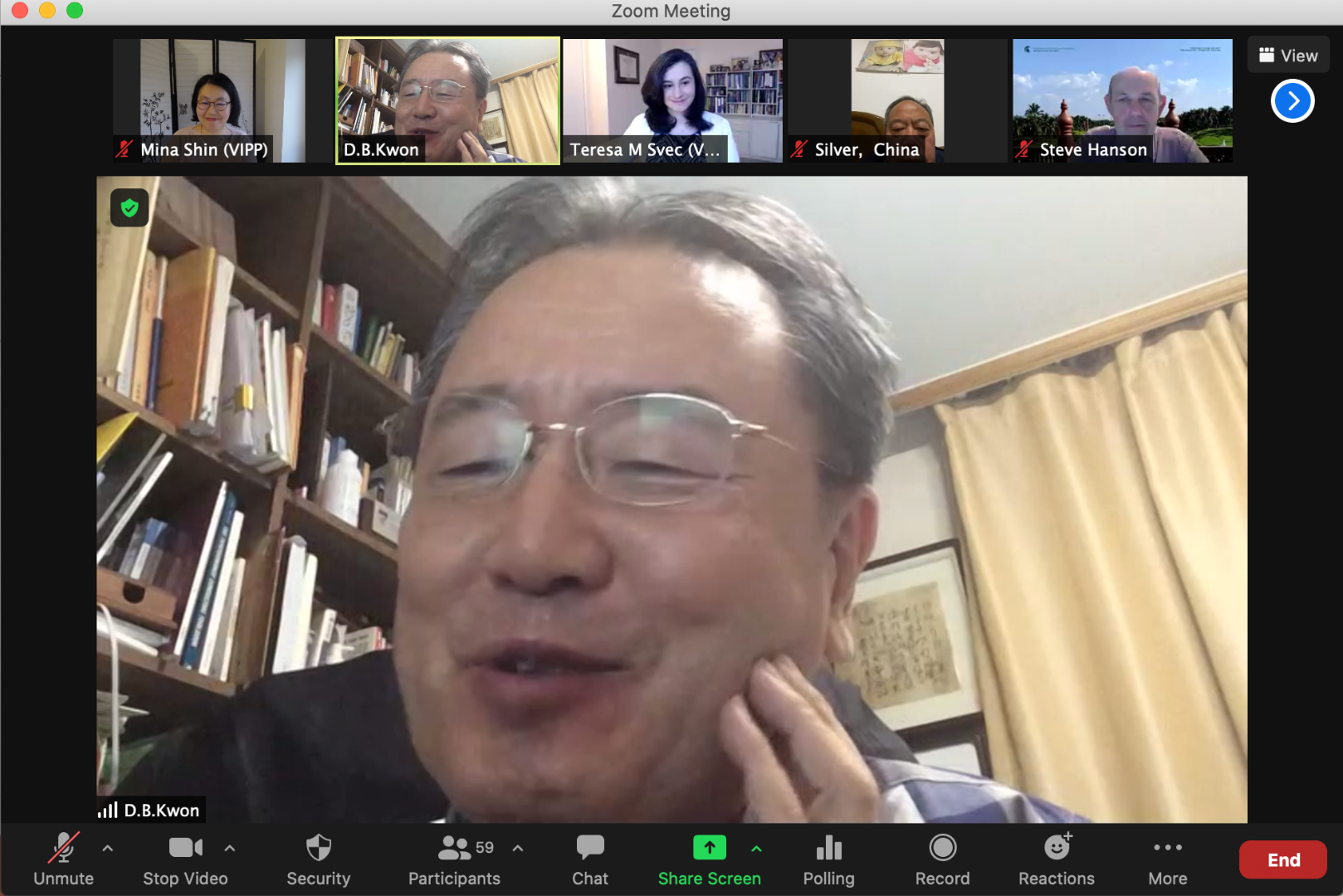 Guests at the ceremony had the rare opportunity to learn about VIPP's history first hand. A special guest at the celebration was Dr. Daebong Kwon, President of JEI University in South Korea, and the first director of VIPP. Dr. Kwon told the story of how VIPP came to be, and shared how VIPP's Founder, Dr. Gill-Chin Lim, had a dream to bring international professionals to the U.S. for professional and cultural exchange, something that did not exist at MSU at the time. Another honored guest at the ceremony was Dr. Hyun-Chin Lim, brother of Dr. Gill-Chin Lim. Dr. Lim shared his memories of his brother's legacy, and spoke of the dedication and hard work of Drs. Kwon and Lim over the years in shaping what VIPP is today.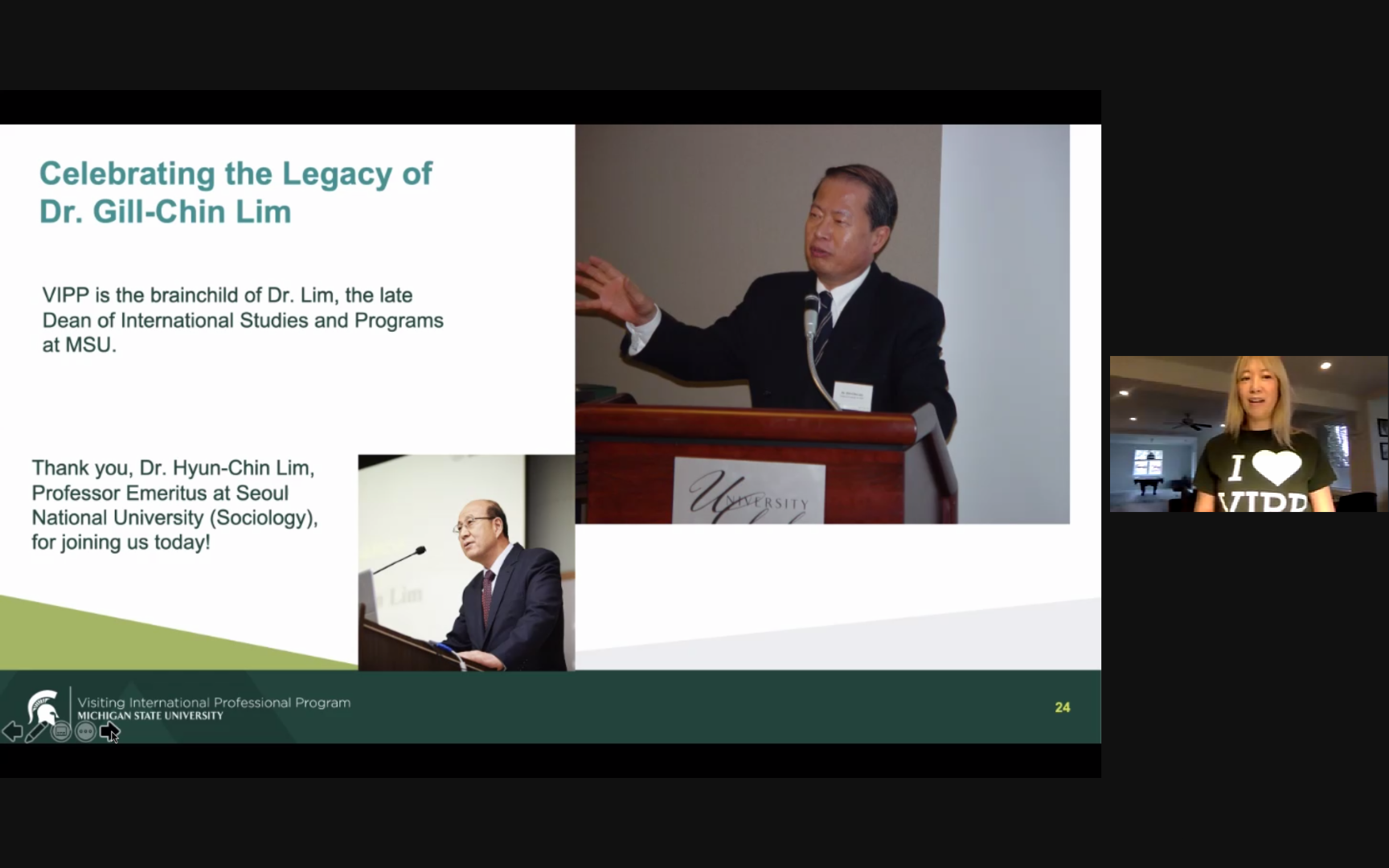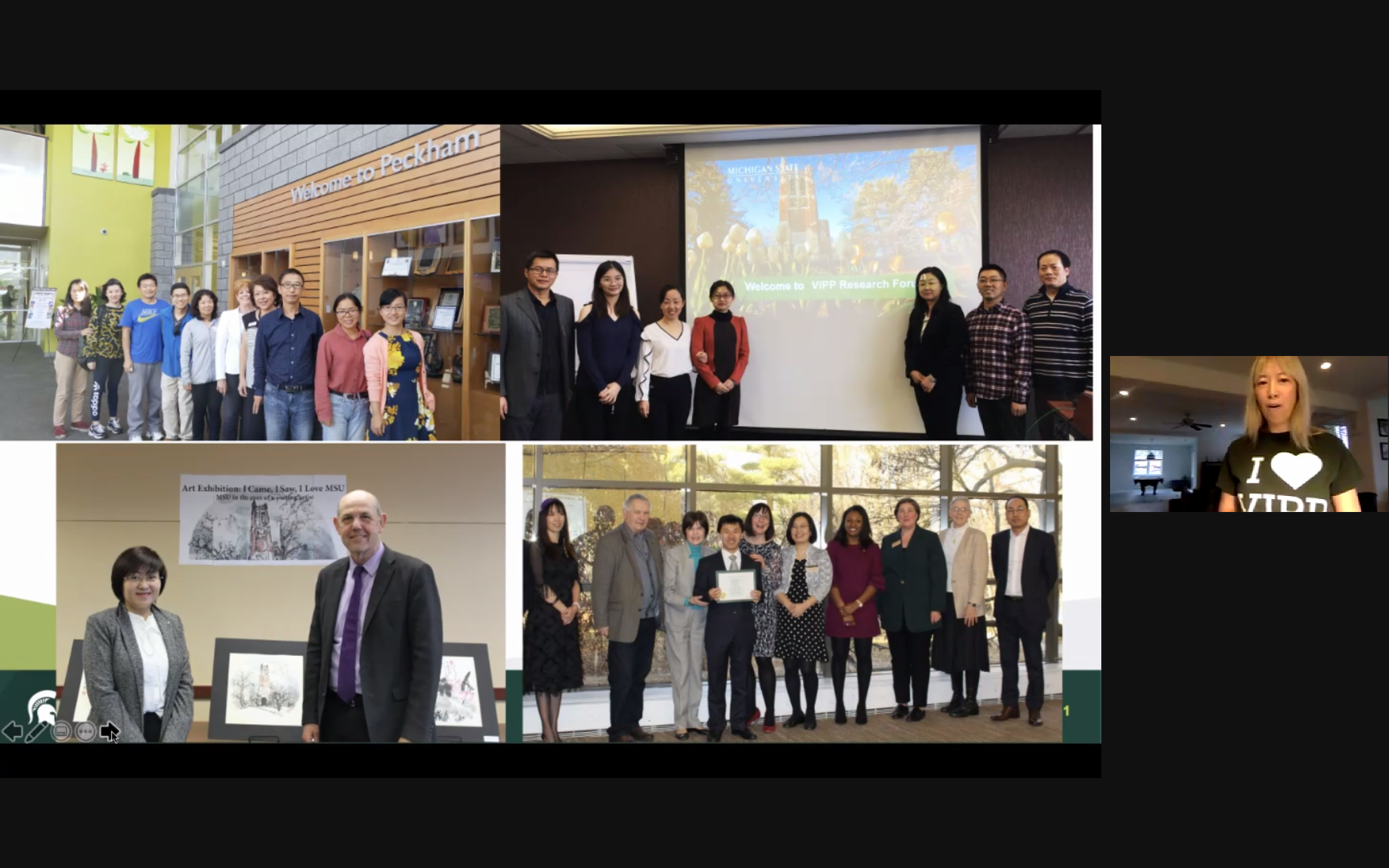 Dr. Xinyu Wu, VIPP's Director gave a speech sharing VIPP's accomplishments over the past 30 years, and highlighting the achievements of alumni. Dr. Wu related how VIPP's partnerships have had a positive impact on Michigan State University, our community, and people and organizations around the world. A slide show during Dr. Wu's speech featured scenes from VIPP programs, as well as participants engaged in exchange activities.
Guests also enjoyed a special performance by Tingting Jiang, VIPP alumna and renowned singer, who shared her stirring rendition of the song "My Heart Will Go On." The sentiment of the song was in keeping with the spirit of the ceremony, and guests were appreciative of Tingting's heartfelt tribute.
Another highlight of the ceremony was when the floor was opened for guest remarks. Guests from around the globe with a variety of different ties to VIPP shared their memories, support, and congratulations. Guests were eager to share the impact that VIPP has had on their lives, and the outpouring of appreciation and support was inspiring.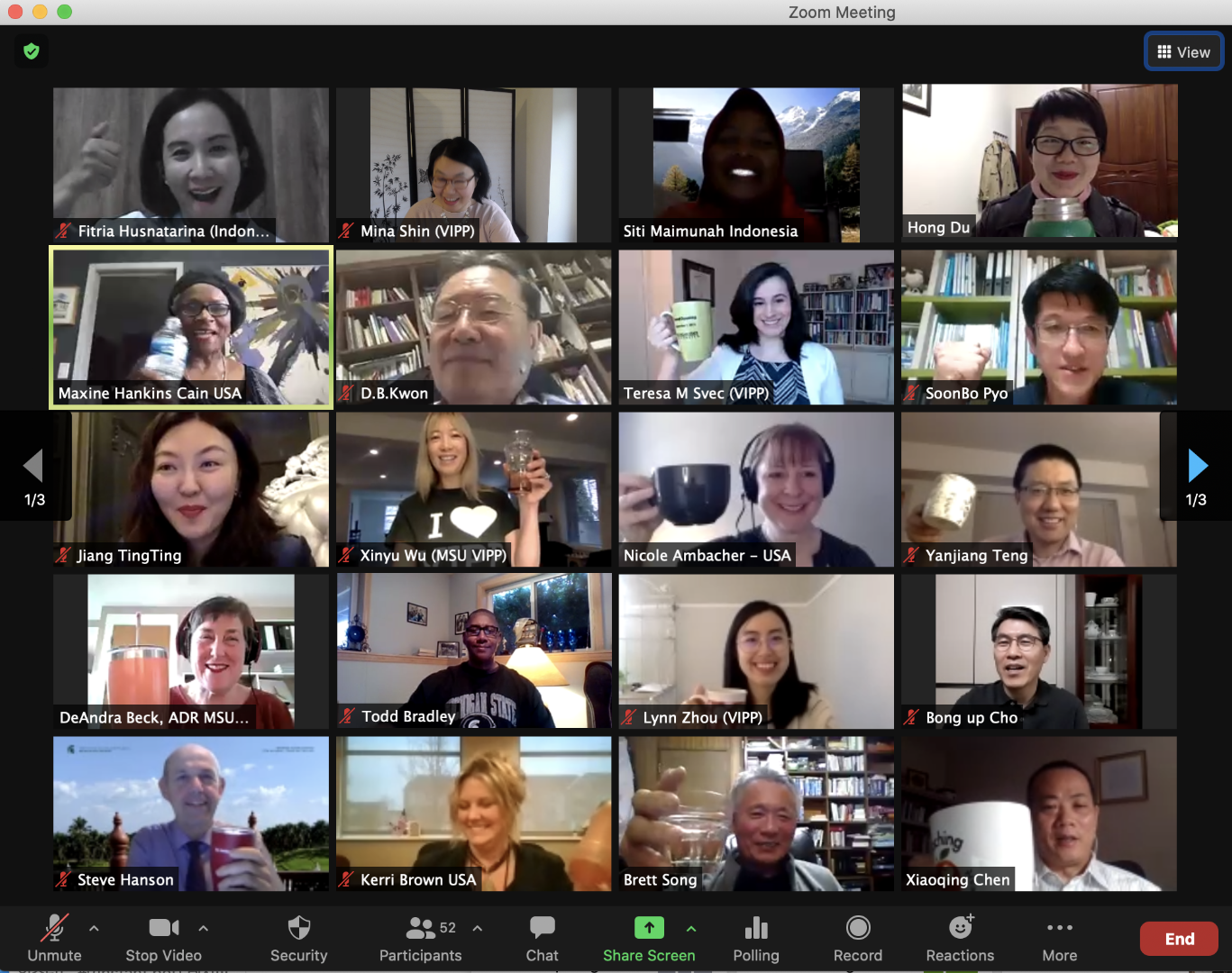 The ceremony concluded with closing remarks from Dr. DeAndra Beck, ISP Associate Dean for Research, followed by a toast, with guests raising their glasses and cheering "Go green, go white!" The kick-off ceremony brought out a sense of goodwill and camaraderie, and after the difficult year of the pandemic, provided guests with a much needed moment of celebration.
To view more photos from the event, visit VIPP's Facebook page.