International Studies and Programs
Michigan State University
International Center
427 N. Shaw Lane
Room 207
East Lansing MI 48824-1035
Tel: +1-517-355-2350
Fax: +1-517-353-7254

Website questions:


Back to Directory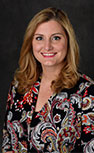 Amber Cordell
Educational Programs Manager
Office for International Students and Scholars
105 International Center

amberc(at)msu.edu
Biography: Amber Cordell is the Educational Programs Manager at the OISS. She serves as Orientation Coordinator for new international students and organizes cultural and student leadership programs throughout the year. She also facilitates intercultural communication workshops for students, staff, faculty and the community. She served on the national NAFSA leadership team as the Campus and Community Programming Network Leader.

Originally from Mississippi, Amber graduated from Shorter College with degrees in psychology and religion. She also holds a MA in religion, with emphasis on Japanese Buddhism, from Wake Forest University. Amber taught English in Japan for three years through the JET Program and worked with international students and scholars for two years at the University of Kansas Medical Center before moving to East Lansing.