International Studies and Programs
Michigan State University
International Center
427 N. Shaw Lane
Room 207
East Lansing MI 48824-1035
Tel: +1-517-355-2350
Fax: +1-517-353-7254

Website questions:


Back to Directory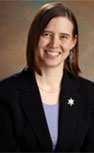 Brooke Stokdyk
Assistant Director
Office for International Students and Scholars
105 International Center

stokdyk(at)msu.edu
Biography: Brooke H.M. Stokdyk is an Assistant Director at the OISS. Brooke hails from Indiana University, where she earned a Bachelor of Arts in Germanic Studies and a Master of Science in Student Affairs Administration. She also spent three and a half years working with international students and scholars at Indiana University before starting her career at MSU in 2005.

Brooke works with mainly J-1 and F-1 regulatory issues, and is the coordinator of the J-1 program. She also works extensively with health insurance / health care advising and education and acts as a liaison for a number of federal and state government agencies. She has spent time in Germany and a few other European countries, and hopes to travel in the future with her husband and two young, vibrant, energetic, stubborn, clever, exhausting, loving children.